Review: ASRock X79 Extreme6
Introduction
ASRock has released several motherboard models for the new socket 2011 back on October when Intel Sandy Bridge-E to be released at the same month. However, Intel releases 2 of the higher end processors while i7-3820, the cheaper Sandy Bridge-E can only be seen in store early last month. ASRock announced X79 Extreme6 priced at $250-300 range motherboard during second half of December 2012, betting that it goes well with i7-3820, with choices of full 8 DIMMs, more phase power and a few of interesting bundled software, eg. XFast Ram
ASRock : Link
ASRock X79 Extreme6 : Link
Photo Gallery

Stock Performance

Overclock Performance @ 4.5GHz
XFast RAM - Fully Optimize Memory Usage
ASRock XFast RAM is a new function that is included into ASRock Extreme Tuning Utility (AXTU). It fully utilizes the memory space that cannot be used under Windows? 32-bit OS. ASRock XFast RAM also shortens the loading time of previously visited websites, making web surfing faster than ever. And it also boosts the speed of Adobe Photoshop 5 times faster. Another advantage of ASRock XFast RAM is that it reduces the frequency of accessing your SSDs or HDDs in order to extend their lifespan.
ASRock XFast USB Technology - Faster Than Your Imagination!
ASRock XFast USB Technology redefines the new standard in high performance computing. Proving once again to be the pioneer in motherboard industry, ASRock XFast USB Series Motherboards integrate with the latest XFast USB Technology which delivers the world's fastest USB data transfer speed. According to the below graph, it shows that the ASRock XFast USB technology can even boost USB 3.0 performance up to 5X faster!
XFast LAN Technology
ASRock XFast LAN is a smart productivity tool to help you manage your priorities of internet applications, simplify your digital life and accomplish more. The innovative features include : Internet Application Prioritization, Lower Latency in Game, Traffic Shaping and Real-Time Analysis of Your Data. It's the smartest way to control your web programs.
133 bclk, this was done on Extreme4, indentical setting can be done on Extreme6 as well. We've tested this CPU previously on ASUS Rampage IV Extreme, and it was only able to bench at 131 bclk.

One particular turndown of Extreme6 is the memory overclocking, and surprisingly, of which Extreme4 turn out to be best memory overclocking motherboard among all other ASRock X79.
Sandy Bridge-E have been setting new memory speed standard for 24/7 usage, many 2400Mhz memory kit can be seen are offered by various memory vendor, such as Kingston, Corsair, GSkill and etc. For starter who wish to build their system running at 2400MHz memory speed and 16GB is sufficient may consider Extreme4, nevertheless, Extreme6 is still good for 2133MHz memory speed with 8 DIMM slots.
Conclusion
ASRock have been very aggressive since P67 era. Their price are always competitive and quality is able to match up to top 3 motherboard vendors, ASUS, MSI and Gigabyte, which place end user in tough situation to make decision and therefore, ASRock make a series of programs as extra features for their users, XFast RAM, XFast LAN and XFast USB. As time goes by, SSD and USB3.0 is pretty common on today's system, ASRock USB3.0 front panel not only provide easy accessible to USB3.0 but also a room for SSD. Regardless of you are an end user or overclocker, ASRock X79 Extreme6 is worth getting.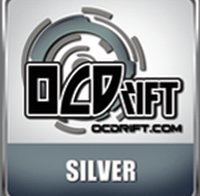 ASRock X79 Extreme6 received Silver Award from OCDrift.com
Disclaimer: OCDrift.com gives out our own award based on the Hardware Performance, OverClocking Ability, Innovation, and Value as determined by the reviewer.

The always helpful and eager to learn boy. Forever #AMDFanboy