Rampage IV Black Edition (RIVBE) is an E-ATX gaming and overclocking motherboard that is designed to unleash the full potential of Intel LGA 2011 Core i7 Ivy Bridge-E processors. Based on the X79 chipset, the RIVBE includes all of the best Republic of Gamers (ROG) technologies and innovations for unrivaled gaming and overclocking performance. With its four PCI-E 3.0 x16 slots and eight memory slots supporting up to 64 GB of overclocked DDR3 DRAM, the RIVBE has near limitless expansion possibilities, including support for both 4-way NVIDIA SLI and AMD CrossFireX (CFX). The RIVBE is not a facelift version of the Rampage IV Extreme (RIVE), but it is a completely redesigned board to solve the weaknesses reported on the latter with some addition of new features needed by overclockers and gamers.
Today, we are going to take a look at how does this RVIBE powered by Intel Core i7 4960X performs against the Z87-based Maximus VI Extreme (MVIE) paired with the Intel Core i7 4770K.
Product Link: https://www.asus.com/Motherboards/RAMPAGE_IV_BLACK_EDITION/
Suggested Retail Price: RM 1,999
Specifications
Overview
Unboxing
The motherboard is packed in a black and dark grey box featuring ROG design. The front side highlights the bundled Assassin's Creed IV Black Flag game.
The back side shows some of the motherboard's key features and specifications.
The RIVBE is fitted with a black and dark grey theme. The LGA2011 CPU socket supports Intel Sandy Bridge-E (SB-E) as well as the latest Ivy Bridge-E (IB-E) processors. The PCB form factor size is Extended-ATX (EATX) measuring (30.5 x 27.2) cm.
As you can see here, the RIVBE is powered by intelligent Extreme DIGI+ III 8+3+2+2 phase power design with premium components such as Black Metallic capacitors, chokes and MOSFETs that are put through numerous tests to ensure their reliability and stability even under the extreme conditions. These high grade components are claimed to have five times longer lifespans than regular components. There are eight DIMM slots that support up to 64 GB of DDR3 memory. The quad-channel DDR3 architecture doubles the bandwidth of system memory to boost the overall system performance.
To the left of the DIMM slots we have onboard Power and Reset buttons, Slow Mode switch, LN2 mode header, ASUS ProbeIt measurement points, MemOK! button, PCIe Lane switch and debug LED panel.
There are four PCIe 3.0 x16 slots that support up to 4-way SLI/CFX @ x16/x8/x8/x8, as well as:
3-way @ x16/x8/x16
2-way @ x16/x16
1-way @ x16
We also have two PCIe 2.0 x1 slots.
For storage needs, we have:
Intel X79 chipset controller: 2 x SATA 3 ports, 4 x SATA 2 ports (support Raid 0, 1, 5, 10)
ASMedia ASM1061 controller: 2 x eSATA 3 ports + 4 x SATA 3 ports
The RIVBE is equipped with the best onboard audio, the SupremeFX Black with 8-channel HD audio CODEC which features Sonic Radar technology. Sonic Radar will give a strategic advantage on some very particular or crucial moments in a gaming session.
The rear I/O panel includes:
1 x PS/2 keyboard/mouse combo port
2 x eSATA 6Gb/s
1 x LAN (RJ45) port
6 x USB 3.0 (blue)
4 x USB 2.0 (one port can be switched to ROG Connect)
1 x Optical S/PDIF out
5 x Audio jacks
1 x Clear CMOS button
1 x ROG Connect On/ Off switch
1 x ASUS Wi-Fi GO! module (Wi-Fi 802.11 a/b/g/n/ac and Bluetooth v4.0/3.0+HS)
The back side of the motherboard is very simple. Backplates are used to provide retention to the CPU socket and X79 chipset on the top of the board.
High end motherboards always come with plenty of cool accessories. The RIVBE comes with ten SATA cables, ROG I/O Shield, a flexible ROG CrossFire bridge, 2-Way, 3-Way, and 4-Way ROG SLI bridges, X-socket bracket (adapter bracket to use with LGA1366 CPU coolers), ROG Connect Cable, Wi-Fi Go! antenna, ASUS ROG case badge and magnet stick, user guide manual, a product key for Assassin's Creed IV: Black Flag and the OC Panel with its 5.25″ bay adapter.
The OC Panel is a standalone device with integrated LCD display used for board monitoring and overclocking. This cool gadget is actually a refreshed version of OC Key that has been improved to satisfy the requests of overclockers.
The OC Panel can be transformed into a 5.25" bay panel for the case-users.
Test Setup
Testing Methodology
Both the i7 4960X and 4770K were overclocked to 4.625 GHz and the graphics card was running at stock clocks.
The game benchmark settings are listed in the table above.
The UEFI BIOS
Extreme Tweaker: with LN2 Mode Disabled
Extreme Tweaker: with LN2 Mode Enabled
DRAM Frequency
DRAM Timing Control: Mode 3 for Ivy Bridge-E
Memory Presets: Lots of memory IC supported
DIGI+ Power Control
CPU Tweaker's Paradise
Memory Tweaker's Paradise
PCH Chipset Tweaker's Paradise
EZ-Mode: A more simplified UEFI interface:
Software & Tools
AI Suite III - OC tweaking utility, is a tool for overclocking in the OS
TurboV Core - a simplified version of TurboV application
MemTweakIt - view and adjust the memory timings real-time in the OS
ROG GameFirst II - for network traffic prioritization
ROG RAMDisk - to make RAMDisk
Sonic Radar - to visualize in-game sound
Stability Tests
LinX 0.6.5 - The main point of Linpack is to solve systems of linear equations of the given size (Problem Size). It is designed as a benchmark to test the performance of a system in GFlops - billions of floating point operation per second. But being highly optimized it is also the most stressful CPU testing program to date and is a great tool in determining stability/instability of a CPU, outperforming other CPU testing software at least time-wise. One and the same system of equations is solved repeatedly; if all results match each other - the CPU is stable, otherwise the instability is obvious, since the same equations system cannot produce different solutions.
With a supplied voltage of 1.425v, the i7 4960X has been successfully overclocked to 4.625 GHz and stressed with Linpack-based LinX application. This overclock passed the stability test without any error in about one hour. One of the cores hit 90°C during loading but it's still lower than TJmax of 95°C.
Synthetic Benchmarks
Game Benchmarks
Memory OverClocking
Hynix-CFR IC RAM: G.Skill TridentX 2800C11 2 X 4GB + Corsair Dominator Platinum 2800C11 2 X 4GB @ 3000 MHz 12-14-14-25-2T
Hynix-MFR IC RAM: Apacer ARES 3000C12 2 X 4GB + Team Xtreem 2800C12 2 X 4GB @ 3000 MHz 12-14-14-25-1T
Samsung IC RAM: G.Skill TridentX 2666C10 2 X 4GB + 2600C10 2 X 4GB @ 2800MHz 9-12-12-25-1T
BBSE IC RAM: G.Skill RipjawsX 2133C8 4 X 2GB @ 2200MHz 8-9-8-24-1T
Thoughts & Verdicts
The benchmark results showed that the ASUS Rampage IV Black Edition outperformed most of the multithreaded benchmarks thanks to the multi-core advantage provided by the hexacore Intel Core i7 4960X. Memory overclocking was impressive on this board especially when taking the quad channel into consideration. The UEFI BIOS computed intelligently to push the overclocking experience to a higher level.
With the RIVBE, you get all the X79/ LGA2011 features, such as quad-channel memory, SATA 3 and multi-GPU support. ASUS gives extreme overclockers the Probelt measurement points, thermal sensors, Slow mode, LN2 mode, MemTweakIt, OC Panel, 4-Way SLI/CFX support, X-Socket bracket, ROG Connect, and the much improved Extreme Engine DIGI+ III 8+3+2+2 phase power design using 10K black metallic capacitors.
With optimizations made for Ivy Bridge-E processors, power users will surely utilize the extra features provided by the new architecture. Packed with high grade components and huge software package, the RIVBE is easily the best X79 motherboard available in the market today.
Last but not least, I would like to thank ASUS Malaysia for making this review possible.
Performance: 5/5
Materials: 5/5
Specifications: 5/5
Appearance: 5/5
Performance/Price Value: 4/5
Pros:
+ Excellent overclocking performance, especially the memory overclocking
+ Attractive black and dark grey theme
+ Good motherboard layout with good placement of PCIe x16 slots
+ 4-way SLI/CrossFire support
+ Comes with high quality onboard SupremeFX audio chip
+ Equipped with the latest Wi-Fi and Bluetooth for convenient wireless connectivity
+ State-of-the-art OC Panel device
+ Included bunch of ROG featured accessories
+ Included huge software package
+ Intelligent UEFI BIOS
+ Free Assassin's Creed IV: Black Flag game
Cons:
- Overpriced in Malaysia (RM1,999)
- Slow POST time, can be even slower with raid setup
- No dual LAN ports
- Hard to remove the top graphics card due to clearance issue
- Large CPU coolers might have clearance issue with the graphics card at top PCIe x16 slot
- Need to download the digital copy of Assassin's Creed IV: Black Flag game
- Doesn't include a full cover ROG amour blackplate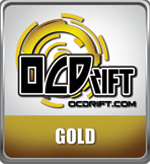 ASUS Rampage IV Black Edition received Gold Award from OCDrift.com
Disclaimer: OCDrift.com gives out our own award based on the Hardware Performance, OverClocking Ability, Innovation, and Value as determined by the reviewer

One of the most respected OverClockers here in Malaysia with vast knowledge in Motherboard, Graphics Card and Memory. The nick "owikh84" is not only well known in local tech sites but also international forums such as XtremeSystems.org, Overclock.net and so on.