2013 is very important for PC market. There are more and more tech products coming this year. One of the most anticipated bits of silicon this year is the Intel's Ivy Bridge Extreme processors. In this review I will be taking a look at the ASUS Rampage IV Extreme (RIVE), to pair with the IB-E based processor, i7 4930K. The RIVE has been added some nice touches and BIOS refinements to support the latest Intel's processors. This board packs a lot of features that are aimed directly at the hardcore gamers and overclocking enthusiasts.
Product Link: http://www.asus.com/Motherboards/RAMPAGE_IV_EXTREME/
Suggested Retail Price: RM1,599
Specifications
The Motherboard
Now, meet the motherboard that is really EXTREME…

The RIVE comes with a black and red theme. The LGA2011 CPU socket supports Intel Sandy Bridge Extreme (SB-E) and Ivy Bridge Extreme (IB-E) processors. The PCB form factor size is Extended-ATX (EATX) with a dimension of (30.5 x 27.2) cm.

As you can see here, the RIVE is powered by intelligent Extreme Engine Digi+ II 8+3+2+2 Phase Power Design with premium components to handle extreme overclocking. There are eight memory slots that support up to 64GB of DDR3 memory. The quad-channel DDR3 architecture doubles the bandwidth of system memory to boost the overall system performance. Also spotted, onboard Power and Reset buttons, Slow Mode switch, LN2 mode jumper, ASUS ProbeIt measuring points, VGA Hotwire connectors, GO button, PCIe Lane switch and debug LED.

There are whopping five PCIe 3.0 16x slots supporting up to 4-way SLI/CF @ x16/x8/x8/x8, as well as:
3-way @ x16/x8/x16
2-way @ x16/x16
1-way @ x16
The RIVE also has a single PCIe 2.0 x1 slot.

SATA ports are consisted of:
Intel X79 chipset controller: 2 x SATA3 + 4 x SATA2
ASMedia PCIe SATA controller: 2 x SATA3

The rear I/O panel includes:
1 x PS/2 keyboard/mouse combo port
1 x Bluetooth module
2 x eSATA3
1 x LAN (RJ45) port
4 x USB 3.0
8 x USB 2.0 (one port can be switched to ROG Connect)
1 x Optical S/PDIF out
5 x Audio jacks
1 x Clear CMOS button
1 x ROG Connect On/ Off switch

Back side of the motherboard is very simple. Backplate is used to provide retention to the VRM coolers on the top of the board. The CPU socket area is supported by LOTES bracket and backplate.
Test Setup

CPU: Intel Core i7 4930K
MB: ASUS Rampage IV Extreme
DRAM: G.Skill TridentX 2800 C11 2 X 4GB, Corsair Dominator Platinum 2800MHz C11 2 X 4GB, G.Skill TridentX 2666MHz C10 2 X 4GB, G.Skill TridentX 2600MHz C10 2 X 4GB, Corsair DominatorGT GTX4 2533MHz C9 2 X 2GB and G.Skill RipjawsX 2133MHz C8 4 X 2GB
GPU: Gigabyte HD7970, MSI's special BIOS, Driver Catalyst 13.8 beta
Storage: Crucial M4 128GB
ODD: LiteON DVD-RW
PSU: Corsair AX1200
Casing: DimasTech Easy Dual V2.5 Test Bench
OS: Windows 7 Ultimate 64-bit SP1
Cooling: Custom watercooling - EK Supreme HF plate #6 CPU waterblock, 2x XSPC RX360 radiator, Swiftech MCP655 pump, EK FC7970 GPU waterblock, EK Multioption X2 Advanced reservoir, XSPC 1/2″ ID 3/4″ OD white tubing, 12x Scythe GT AP-15 1850rpm 120mm fan + Aerocool Shark 120mm fan, Coolaboratory Liquid Pro thermalpaste
UEFI BIOS
Main page with LN2 Mode jumper ON:

RAM timing settings: Mode 3 for Ivy Bridge-E

Memory presets: Lots of memory IC supported

PCH Chipset Tweaker's Paradise:

EZ-Mode: A more simplified UEFI interface

Software & Tools
AI Suite II - OC tweaking utility, is a tool for overclocking in the OS.
TurboV Core - a simplified version of TurboV application.
MemTweakIT - view and adjust the memory timings real-time in the OS.
Stability Tests
LinX 0.6.5:

The 4930K is overclocked to 4.593GHz @ 1.408v and passed the stress test without an error in 5 hours 45 minutes. One of the cores hit 92C during loading but it's still lower than TJmax of 95C.
Benchmark Tests
The 4930K is overclocked to 4.675GHz (6 cores/12 threads) for 3D benchmarks and 5.0GHz (2 cores/2 threads) for 2D tests. At the same time, the HD7970 is overclocked to 1300MHz core/7000MHz mem @ 1.3v/1.7v.
Super Pi 32M/ wPrime/ MaxxMEM/ AIDA64 Cache and Memory Benchmark:

Super Pi 32M Benchmark with Hynix-CFR IC RAM
G.Skill TridentX 2800C11 2 X 4GB + Corsair Dominator Platinum 2800C11 2 X 4GB @ 2965MHz 12-15-15-35-2T (Quad Channel)

G.Skill TridentX 2800C11 2 X 4GB @ 3000MHz 12-14-14-35-2T (Dual Channel)

Super Pi 32M Benchmark with Samsung IC RAM
G.Skill TridentX 2666C10 2 X 4GB + 2600C10 2 X 4GB @ 2700MHz 9-12-12-25-1T (Quad Channel)

Super Pi 32M Benchmark with PSC IC RAM
Corsair DominatorGT GTX4 2533C9 2 X 2GB @ 2666MHz 8-12-8-28-1T (Dual Channel)

Super Pi 32M Benchmark with BBSE IC RAM
G.Skill RipjawsX 2133C8 4 X 2GB @ 2133MHz 8-9-8-24-2T (Quad Channel)

Game Benchmarks
Thoughts & Verdicts
I've always been impressed with the ASUS "Republic of Gamers" (ROG) motherboards. With the RIVE, you get all the X79/Socket LGA2011 features, such as quad-channel memory, SATA3, and SLI and CrossFire (CF) support. ASUS gives the extreme overclockers the VGA Hotwire, GPU/DIMM POST, thermal sensors, LN2 mode, Mem TweakIt, Sub Zero Sense, OC Key, OSD TweakIt, 4-Way SLI/CF support, X-Socket, ROG Connect, ROG iDirect, and the Extreme Engine Digi+ II 8+3+2+2 phase power design using 10K black metallic caps.
Overall, this is the board to beat for serious overclockers who are going for the enthusiast class. Overclocking on the Ivy Bridge-E (i7 4930K) was very great. The UEFI BIOS works intelligently to provide a pleasant overclocking session.
Lastly, I would like to thank ASUS Malaysia especially Sanko for making this review possible.
Performance: 5/5
Materials: 5/5
Specifications: 5/5
Appearance: 5/5
Performance/Price Value: 5/5
Pros:
+ Excellent overclocking performance
+ Appealing red and black theme
+ Good motherboard layout with bunch of PCIe X16 slots
+ Intelligent UEFI BIOS and applications
Cons:
- Pricey
- No Wifi module
- No dual LAN ports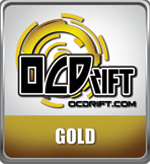 RAMPAGE IV Extreme received Gold Award from OCDrift.com
Disclaimer: OCDrift.com gives out our own award based on the Hardware Performance, OverClocking Ability, Innovation, and Value as determined by the reviewer

One of the most respected OverClockers here in Malaysia with vast knowledge in Motherboard, Graphics Card and Memory. The nick "owikh84" is not only well known in local tech sites but also international forums such as XtremeSystems.org, Overclock.net and so on.