Review: GALAXY GTX780 Hall Of Fame (HOF)

The GTX 780 Hall of Fame (HOF) is GALAXY's flagship graphics card based on NVIDIA's latest architecture GK110. It features a custom 2 1/2-slot dual fan cooler and hybrid heat pipe vapor chamber cooling technology to ensure excellent cooling performance. The Hyper Boost hardware overdrive switch supercharges your core clocks. The GTX 780 HOF combines extraordinary power and cooling performance to provide an entirely new class of graphics performance. NVIDIA GPU Boost 2.0 technology pushes PC performance to new levels with an advanced fan control algorithm. Let's dig out what the GTX 780 HOF has to offer.
Product Link: GALAXY GTX780 Hall Of Fame (HOF)
Suggested Retail Price: USD689.99 (Newegg)
Specifications
Unboxing

The GTX 780 HOF features a signature white PCB and grey cooler which is no doubt looks aesthetically appealing especially for those who has the same theme on their rig. The Hall of Fame logo on the cooler has a white glow that pulsates when switched on. That looks stunning!

The NVIDIA GK110 GPU chip is soldered at the middle of the graphics card. For record, GK110 was first introduced as a Tesla-only product for powering demanding GPU compute applications. NVIDIA has now also released it as a GeForce GPU. It uses 7.1 billion transistors on a die size that we measured to be 561 mm². The GPU is produced on a 28 nanometer process at TSMC, Taiwan.

Let's close up to the PCB area of the graphics card. Comes in a white PCB, the GTX 780 HOF packs a digital 8 + 2 phase power design and Premium POSCAP and MLCC capacitors to give an optimum power delivery to the overclocking and long term stability.

There are two 8-pin PCIe connectors to provide enough power delivery for extreme overclocking.

The SLI connectors supports up to 3-way SLI (4-way with modified driver).

The I/O panel includes two Dual Link DVI ports, an HDMI port and a DisplayPort 1.2. There is a HyperBoost button, when pushed will adjust the fan speed to 100%. At first I thought that this button will overclock the GPU with a single push but I was wrong. This button will not adjust the clocks.

The back side of the graphics card looks very clean. The 10-layer custom PCB is completely altered from the reference design of the GTX 780.

Accessories bundled in the package are great and quite unique!
Test Setup

CPU: Intel Core i7 4770K overclocked @ 4.625GHz
MB: ASUS Maximus VI Extreme
DRAM: Apacer ARES 3000MHz C12 2 X 4GB @ 3000MHz 12-14-14-25-1T
GPU: GALAXY GTX 780 HOF, Driver Geforce 331.40 Beta
Storage: 2x Crucial M4 128GB
ODD: LiteON DVD-RW
PSU: Corsair AX1200
Cooling: Custom watercooling - EK Supreme HF plate #6 CPU waterblock, 2x XSPC RX360 radiator, Swiftech MCP655 pump, EK Multioption X2 Advanced reservoir, XSPC 1/2″ ID 3/4″ OD white tubing, 12x Scythe GT AP-15 1850rpm 120mm fan + Aerocool Shark 120mm fan, Coolaboratory Liquid Pro thermalpaste etc.
Casing: DimasTech Easy Dual V2.5 Bench Table
Monitor: Dell U3011 (2560 x 1600) & Dell U2312HM (1920 x 1080)
OS: Windows 7 Ultimate 64-bit SP1
Software & Tools

Xtreme Tuner Plus - a tweaking tool for BIOS recovery, fan speed adjusment, and overclock setting through the user-friendly screen panel including thermal target settings, GPU clock offset etc.
Stability Tests

I could stress the graphics card with MSI Kombustor 2.5.2 running at stock clocks without an error in about 15 minutes. The GPU core hit 65C during loads which is still cool and stable for such clocks.
Synthetic Benchmarks
3DMark 13 Fire Strike (Extreme)

Unigine Heaven 4.0 (2560 X 1600)

Unigine Valley 1.0 (2560 X 1600)

Game Benchmarks (2560 x 1600)
S.T.A.L.K.E.R: Call of Propyat

Lost Planet (Test A): 1920 x 1080

Lost Planet (Test B): 1920 x 1080

OverClocking

With HyperBoost button pushed and a supplied voltage of 1.2v for the GPU I managed to push the GPU core frequency to 1319MHz (boost) and video memory frequency of 6912 MHz

Voltage mod to 1.35v allowed me to achieve 1345MHz core frequency
Thoughts & Verdicts
The GALAXY GTX780 Hall Of Fame (HOF) is an excellent graphics card for gaming. I don't have any problem starting from installing the drive to the gameplay. It works just perfectly throughout the tests. The twin-fan cooler also works flawlessly to dissipate the heat generated by the GPU. The card hit 71C max during the test with HyperBoost enabled, but that was in 34c ambient temperature. It performs as fast as the GTX Titan for a much lower price. This monster card is no doubt a perfect companion for hardcore gaming.
Last but not least, I would like to thank GALAXY for making this review possible.
Performance: 4.5/5
Materials: 5/5
Specifications: 5/5
Appearance: 5/5
Performance/Price Value: 5/5
Pros:
+ Fast, excellent performance
+ White PCB looks stunning
+ Good temperature, cool and stable
+ Cooler fans are quiet when not in HyperBoost mode
+ Innovative Xtreme Tuner Plus
+ Great accessories package
Cons:
- Overclocking ability could be improved
- Fluctuating core clock during loads
- No dual BIOS chips
- Takes up 2.5 slots so beware of that if you are going to SLI them on your motherboard, they are huge!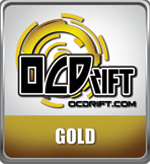 GALAXY GTX780 Hall Of Fame (HOF) received Gold Award from OCDrift.com
Disclaimer: OCDrift.com gives out our own award based on the Hardware Performance, OverClocking Ability, Innovation, and Value as determined by the reviewer

One of the most respected OverClocker here in Malaysia with vast knowledge in Motherboard, Graphics Card and Memory. The nick "owikh84" is not only well known in local tech sites but also international forums such as XtremeSystems.org, Overclock.net and so on.