Three months after unleashing the flagship GeForce GTX TITAN X, NVIDIA didn't stop there when they once again strengthen the GPU crown by releasing the GeForce GTX 980 Ti. Si dans ce domaine le résultat est une grande réussite, c'est loin d'être le cas du triptyque consommation, température et nuisances sonores avec les cartes R9 290/290X au design de référence.DDasd It is built on the same "Big Maxwell" GM200 silicon as the TITAN X, but has fewer CUDA cores (2816 versus 3072) and features 6GB of VRAM instead of 12GB.
The graphics card that we are reviewing today is the ASUS Strix GTX 980 Ti. It's the third Strix-branded graphics card that has made its way to OCDrift test lab after the Strix GTX 780 OC 6GB and Strix GTX 980 4GB.
Just a little introduction on the "Strix" branding. "Strix" is actually taken from ancient Greek word for owl, which is known for its silent hunting skill. This is very synonym to the graphics card that we are going to review today which features a completely silent cooling solution. Now let's take a look at the performance of this graphics card and its overclocking potential in our full review here.
Product Link: STRIXGTX980TIDC3OC6GD5GAMING/
Suggested Retail Price: USD $ 670 (RM 3,339 in Malaysia)
Specifications
Similar to reference GeForce GTX 980 Ti, the ASUS Strix GTX 980 Ti features 2,816 stream processors, 96 ROPs, 176 GigaTexels/sec of Texture Units and 384-bit memory bus. The 6GB VRAM is still based around the GDDR5 but the NVIDIA's next-gen Pascal" GPU is confirmed to be implementing the second generation of High Bandwidth Memory (HBM), a new type of memory chip with high bandwidth performance, outstanding power efficiency and massive space saving as compared to GDDR5. The reference GeForce GTX 980 Ti features a GPU base clock of 1,000 MHz and boost clock of 1,075 MHz (maximum GPU boost clock of 1,139 MHz).
With the Strix GTX 980 Ti, ASUS offers three modes – Silent, Normal and OC mode. In Silent Mode, the base clock is 1,164 MHz and the boost clock is 1,265 MHz (maximum boost clock at 1,366 MHz). This is a 16 % overclock from the reference GTX 980 Ti.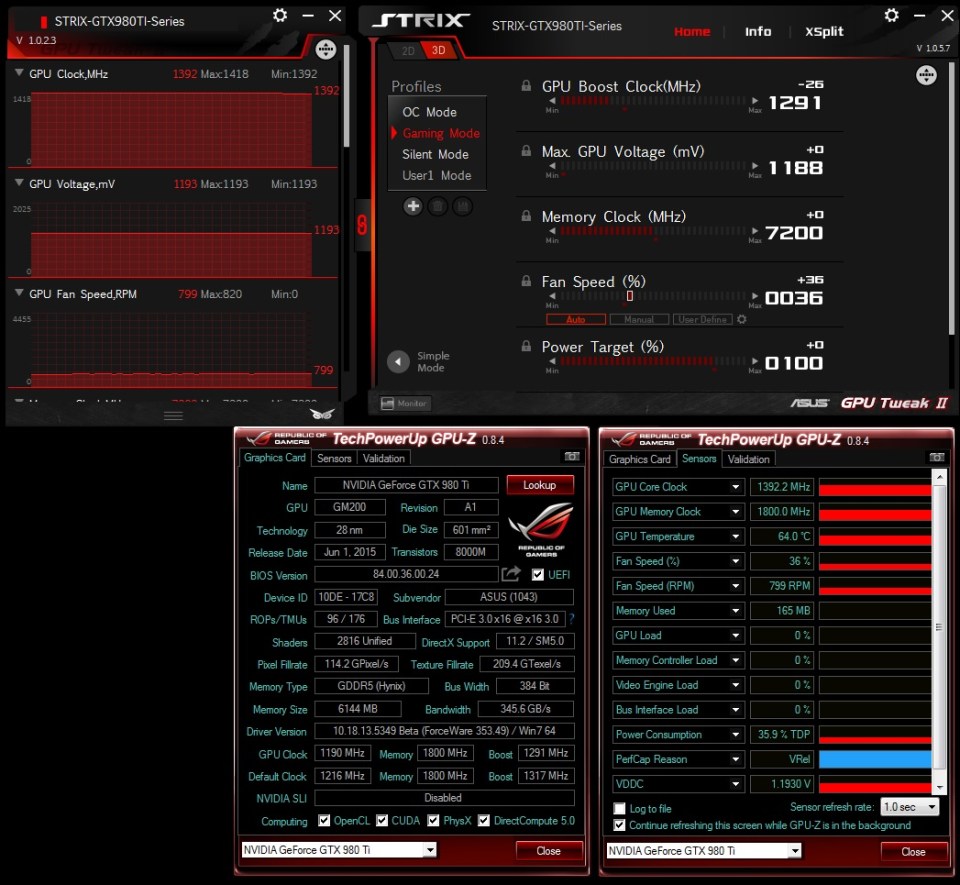 In Gaming mode, the base clock is 1,190 MHz (+ 19 %) and the boost clock is 1,291 MHz (maximum boost clock at 1,392 MHz).
In OC mode, ASUS has decided to give it an aggressive overclock to the GPU when the base clock is specified to run at 1,216 MHz and the boost clock at 1,317 MHz (maximum boost clock at 1,418 MHz). This translate to around 22 % of overclocking compared to the reference card from NVIDIA.
On the memory part, the ASUS Strix GTX 980 Ti's VRAM is factory-overclocked to 1,800 MHz (7200 MHz effective) from 1,750 MHz (7000 MHz effective), which is about 3 % overclock.
Special Features
BLAZING-FAST. ARMOR-PROTECTED. SUPER-COOL.
Taken from the ancient Roman and Greek word for owl, Strix means the keenest hearing and sharpest eyesight. Strix means feeling your environment so that you detect and react to the slightest movement. Strix means survival on the very edge of instinct. Strix is in your blood, as it is in ours.
ASUS STRIX GTX 980 Ti gaming graphics cards packed with exclusive ASUS technologies, including DirectCU III with Triple Wing-Blade 0dB Fan Design for maximum air flow with 30% cooler and 3X quieter performance. This card features exclusive ASUS AUTO-EXTREME Technology with Super Alloy Power II for premium quality and best reliability. It also has GPU Tweak II with Xsplit Gamecaster, provides intuitive performance tweaking and lets you stream your gameplay instantly.
DirectCU III with Dual 10mm Heatpipe
30% Cooler and 3X Quieter Performance. Exclusive DirectCU III cooling technology features two exclusive 10 mm direct-GPU contact heat-pipes that transports 40% more heat away from the GPU and outperform reference designs, achieving up to 30% cooler gaming performance.
Patented Triple Wing-Blade 0dB Fans
Max Air Flow with 105% More Air Pressure. DirectCU III features triple 0dB fans engineered with a patented, new wing-blade design that delivers maximum air flow and improved 105% static pressure over the heat sink, while operating at 3X quieter volumes than reference cards. The 0dB fans also let you enjoy games like League of Legends® and StarCraft® in complete silence — because the fan stops completely when the GPU temperature remains below a set level*. This makes DirectCU III the coolest and quietest graphics card in the market.
All ASUS graphics cards are now produced using AUTO-EXTREME Technology, an industry-first, 100% automated production process that incorporates premium materials to set a new standard of quality. AUTO-EXTREME Technology ensures consistent graphics card quality as well as improved performance and longevity. This new manufacturing process is also environmentally friendly, eliminating harsh chemicals and reducing power consumption by 50%.
14-phase Super Alloy Power II
ASUS engineers have integrated premium components into their graphics card designs to reinforce overall reliability. Super Alloy Power II components greatly enhance efficiency, reduce power loss, provide 2X reduced component buzzing while under full load, and achieve thermal levels that are approximately 50% cooler than previous designs.
STRIX graphics cards exceed your performance expectations while looking amazing. Pulsating light effects add cool style to your system.
An advanced backplate prevents PCB bending over time, and now includes STRIX GPU-Fortifier, which relieves physical stress around the GPU in order to protect it.
GPU Tweak II with XSplit Gamecaster
Tweak Till Your Heart's Content. Redesigned with an intuitive, all-new UI, GPU Tweak II makes overclocking easier and more visual than ever, while still retaining advanced options for seasoned overclockers. With one click, the new Gaming Booster function maximizes system performance by removing redundant processes and allocating all available resources automatically. XSplit Gamecaster lets you easily stream or record your gameplay right from a convenient, in-game overlay.
One-click Performance Up
Visual effects: Boost your performance by turning off windows visual effects.
System Services: Automatically or manually turn off windows services or process.
Memory Defragmentation: Re-arrange & free your system memory without closing any processes.

One of the most respected OverClockers here in Malaysia with vast knowledge in Motherboard, Graphics Card and Memory. The nick "owikh84" is not only well known in local tech sites but also international forums such as XtremeSystems.org, Overclock.net and so on.