ASUS's Maximus Extreme model has been their flagship mainboard for years each time when new chipset was released. But this time, the company broke the old traditions. Instead of Extreme model, ASUS released the Maximus VII Formula as their top-of-the-line Z97 motherboard. This also means there won't be a Maximus VII Extreme available for the Intel Z97 chipset.
The Maximus VII Formula was first unveiled during Computex 2014 along with the top-end Mini-ITX Maximus VII Impact which we've reviewed just recently. Like other siblings in the Republic of Gamers (ROG) family, the ASUS Maximus VII Formula is loaded with massive gaming and overclocking features. Of course, the most obvious features that distinguish between the Maximus VII Formula and its brethren are the exclusive ROG Armor and Crosschill Copper hybrid water block.
Retailing at RM 1,720, is the latest iteration of ROG Maximus motherboard special enough to warrant its hefty price tag? Let's find out in our review!
Product Link: http://www.asus.com/Motherboards/MAXIMUS_VII_FORMULA/
Suggested Retail Price: RM 1,720
Specifications
Overview
Unboxing
The ASUS Maximus VII Formula arrives in a large cherry red coloured box featuring ROG design. The first thing that you will notice is that the package comes bundled with the popular Watch Dogs game in the form of Product Key. Across the bottom of the front side there are some labels showing the motherboard's features such as the support for Intel's Core processor and Z97 chipset, NVIDIA's SLI and AMD's CrossfireX supports, native support for Ultra-HD 4K as well as Windows 8.1 ready.
There's a folding cover giving sneak peek of the motherboard and extra details of the features. Here ASUS gives you in-depth explanations on the Crosschill Copper cooling solution, SupremeFX Formula 2014 audio, LANGuard networking protection and GameFirst III network optimization, and KeyBot technology.
The back of the retail packaging depicts the specifications of the Maximus VII Formula and highlights the main components of the feature set, such as the mPCIe Combo III module, Extreme Engine Digi+ III power delivery system, ultra-fast SATA Express storage port, and of course the ROG Armor. You can also see a diagram illustrating the connectivity interfaces available at the rear I/O panel of the motherboard.
Premium motherboard always comes with a premium accessories package. ASUS includes a detailed user's manual, driver and software disc, a total of eight 6Gbps SATA 3 data cables, a 12-in-1 ROG cable labels, a ROG door hanger, an ROG case badge, a ROG SLI bridge, a set of ASUS Q-Connector for the front panel connectivity, a ROG I/O Shield, the mPCIe Combo III module and a dual-band Wi-Fi portable antenna.
The Maximus VII Formula itself looks very attractive and in our opinion one of the best looking Z97 motherboards on the market at the moment. The ROG Armor serves as a protective shield to block unnecessary heat from the graphics card but it does add some aesthetic looks to the motherboard. Also spotted, the all new Crosschill Copper hybrid water block.
Turning the motherboard over you can see the rear steel backplate that supports the entire PCB to prevent bending and helps dissipating heat away from critical components via thermal pads.
Above the Crosschill Copper hybrid water block, you can see the 8-pin and 4-pin 12V CPU power connectors which supply power to the CPU socket.
On the other side of the Crosschill Copper water block you can see the MemOK! button which comes in handy in the event of memory problems that are preventing your system from booting. You will also find voltage measuring points called ProbeIt. You can plug in your favourite multimeter to accurately monitor the voltages applied to the motherboard and its hardware.
ASUS provided a total of four DDR3 DIMM slots featuring second-generation T-topology design for minimal noise and signal reflection for enhanced overclocking. These memory slots are specified to run at dual channel configuration up to 3300MHz with overclocking and support for Intel Extreme Memory Profile (XMP) and a maximum of 32GB memory capacity. The single-sided clip design will ensure that handling memory modules is easier and super secure. On the left of the memory slots you can see a pair of fan headers. The other side of the DIMM slots you will find the Q-Code panel, followed by the Start and Reset buttons and the 24-pin power connector which supplies power to the motherboard. Then we have a USB 3.0 header as well as a fan header.
The expansion slots are plentiful on the Maximus VII Formula.  We have three PCIe x16 expansion slots in which two of them are Gen3 and specified to run at x16 while the other one is Gen2 and runs at x4 mode only. When both the Gen3 slots are occupied both slots will run at x8. When three cards are installed, the configuration will become x8/ x8/ x4. However this applies to AMD's graphics cards only because NVIDIA does not officially support SLI at PCIe lane below x8. This means that the Maximus VII Formula supports up to 2-way SLI only unless if a PLX chip is provided to supply extra PCIe lanes to the motherboard. Other expansion slots are three PCIe 2.0 x1 slots.
Across the bottom of the motherboard, from left to right, you can see the front panel audio connector, the ThunderBolt header, the SoundStage button, a fan header, the BIOS chip, the ROG Extension header, a USB 2.0 header, a fan header, the T_sensor header, and the system panel connector for front panel connectivity.
For storage needs, ASUS offers a total of ten6Gbps SATA 3 ports in which four of them are natively controlled by the Z97 chipset supporting Raid 0, 1, 5, 10 via Intel Rapid Storage Technology. The other two ports are wired to ASMedia's ASM1061 controller. Four other ports are shared with the SATA Express ports.
The rear I/O panel is consisted of, from left to right, the mPCIe Combo III card which will be connected to the wireless antenna, the Clear CMOS and the ROG Connect buttons. Next, we have a keyboard/mouse combo port, with two USB 2.0 ports below it.  The next block of connectivity contains an Optical S/PDIF output, a HDMI port and a DisplayPort. Next up, we have six USB 3.0 ports in which two of them are controlled by ASMedia chip while the rest are wired to Intel Z97. Along with that, we have a Intel I218V controlled Gigabit LAN port for wired connectivity. Lastly, there are six audio outputs for the ROG SupremeFX Formula 2014 audio system.
Here's the mPCIe Combo III module which provides 802.11ac/ Bluetooh V4.0 wireless connectivity and blazing fast M.2 Socket 3 M Key slot.
Dismantling the ROG Armor reveals the Maximus VII Formula in all its glory. This job can be done easily by removing the screws from the backplate.
The ASUS ROG Armor which is consisted of strong ABS top over and solid SECC steel backplate.
Next up we have the Crosschill Copper hybrid water block. Instead of using anodized nickel like we've seen on the Z87 Formula, ASUS decided to equip the Maximus VII Formula with a copper cooling channel which dissipates heat more efficiently and reduce the possibility of galvanic corrosion. With Copper Crosschill, users can choose to use either air or liquid to cool the motherboard. ASUS claimed that liquid will reduce the MOSFET temperature by up to 23˚C. The included G1/4 threads will allow you to reuse your existing G1/4 barbs or compression fittings from your existing cooling setup.
Featuring Extreme Engine Digi+ III technology, the Maximus VII Formula is equipped with six phase power design responsible for the CPU overclocking while two other phases are responsible for memory overclocking. It also comes with high quality components such as Japanese-made 10K Black Metallic Capacitors, 60A Blackwing Chokes, and NexFET Power Block MOSFET. ASUS claimed that these premium components offer five times longer lifespans than regular capacitors.
The NexFET Power Block MOSFET is driven by high quality International Rectifiers IR3535M that are put through numerous tests to ensure their reliability and stability even under the extreme conditions.
The Maximus VII Formula is equipped with the most advanced audio solution, namely the SupremeFX Formula 2014 featuring 600ohm-headphone amplifier, high quality ELNA audio capacitors, 120dB Cirrus Logic CS4398 DAC, Sonic SoundStage, Sonic SenseAmp, Sonic Studio as well as the Sonic Radar II technology. Sonic Radar II will allow you to see your enemy behind walls or distances very clearly and precisely. The audio circuitry is isolated from the main PCB to minimize the interferences made by neighboring components and eventually produce a good sound quality. The heat sink on top of the audio chipset and red line separating the integrated audio board circuitry from the main board will glow red when the motherboard is powered.
The back side of the matte black PCB comes plain with just a single backplate at the CPU socket. Every component is well soldered across the entire PCB. The yellow coloured line that separates the audio board circuitry can also be seen here.
Features
The ASUS Maximus VII Formula is loaded with massive features and utility suites such as the GamerFirst III which is designed to help you to assign top priority to game packets and allocate more bandwidth to the game, ensuring the best online gaming experience. The in-game visualized Sonic Radar II detection is designed for gamers for better hearing during heavy gaming. It does not interfere with game files, nor does it represent anything more than the game engine produces. Besides that, the motherboard comes bundled with the most advanced SupremeFX Formula 2014 audio solution to give the best sound quality for gaming. The ROG armor provides extra cooling for crucial components and adds extra rigidity to the PCB to prevent it from bending. The Crosschill Copper hybrid water block allows users to choose either air or water cooling option. Other components of feature set include the LANGuard, KeyBot, TrueVolt USB, RAMDisk, and many more.
The UEFI BIOS
The layout design of the new UEFI BIOS is quite informative with the descriptions of every option displayed on the bottom of the screen. The Maximus VII Formula, like its brethren in the ROG family, offers two modes for the UEFI BIOS that we have seen since a few generations of platforms ago, which are the Advanced and EZ Mode.
The Advanced Mode  is suitable for experienced performance enthusiasts that demand for more adept of tuning abilities for higher level of overclocking.
The EZ Mode is easy to learn, use, and manage for users who do not want to spend the time going through the advanced sections of the BIOS. It displays frequently-accessed setup info. Users can choose system performance mode on demand and also drag and drop to set the boot priority.
The AI Suite III
ASUS AI Suite III is an intuitive central hub that provides access to the vast majority of ASUS monitoring and control utilities on the Maximus VII Formula. The utility offers a thorough control for the TurboV Processing Unit (TPU), Energy Processing Unit (EPU) to enhance energy efficiency, DIGI+ Power Control for enhanced performance, increased efficiency and optimum reliability, and Fan Xpert3 for unrivalled customizable fan control, allowing you to supervise overclocking, energy consumption, fan speeds and voltages. These are the main features of 5-Way Optimizationdriven by Dual Intelligent Processors 5. Overall, the software worked flawlessly in our testing.
Test Setup & OverClocking
Carrying the ROG DNA, the Maximus VII Formula is built with bunch of overclocking features targeted at ambitious overclockers who want to break world record. These include the eight phase power design for CPU overclocking, NexFET Power Block MOSFETs, 10K Black Metallic Capacitors, and 60A Blackwing Chokes.
During our overclocking process, we managed to take our Intel Core i7-4790K "Devil's Canyon" processor to a frequency of 4.6GHz. The memory was set to run at a frequency of 2666MHz at timings of 10-12-12-25-1T. To confirm its stability for 24/7 operation, we used AIDA64 Stability Test to stress the overclocked CPU as maximum as possible. Our overclock showed no error during the stability test for around 1.5 hours. The average CPU core temperature recorded was 73°C which is quite nice.
We took this 4.6GHz overclock into our benchmark tests and compare the results with other motherboards. As for the memory department, we picked Samsung-based G.Skill TridentX memory kit and run it at 2666MHz 10-12-12-25-1T. As usual, our trusty ASUS ROG Matrix R9-290X Platinum graphics card was responsible for graphics-intensive benchmarks.
Synthetic Benchmarks
Storage Benchmarks
ASUS provides their Maximus VII Formula motherboard with a total of ten 6Gbps SATA 3 ports. Four of them are natively controlled by Intel's PCH while two ports are wired to ASMedia's ASM1061 controller. The last four ports are lent to SATA Express connectors. During our testing process, the Maximus VII Formula motherboard's SATA ports worked flawlessly and showed some similarities to other motherboards in the competition. Unfortunately we didn't have the chance to test the M.2 and SATA Express performances due to the lacks of hardware.
Game Benchmarks
The game benchmark settings are listed in the table below:
The game titles selected demand GPU power over CPU power therefore in each test the difference is negligible. We didn't test the games with the integrated HD4600 graphics iGPU because we believe that nobody is going to use it for gaming especially with the ultra-high quality texture used on these modern game titles. Normally addictive gamers will most likely add a dedicated graphics card for better gaming experience.
Memory OverClocking
ASUS employed an additional two phase power design on their Maximus VII Formula to responsible for memory overclocking purpose. Thanks to the matured UEFI BIOS, we've got a bunch of memory presets and setting options that helped us a lot during the memory overclocking sessions. We had no problem overclocking all of our memory kits on the Maximus VII Formula. Below are the overclocking results:
Hynix-MFR IC RAM: Apacer ARES 3000C12 2 X 4GB @ 3333MHz 12-16-15-35-1T
Hynix-CFR IC RAM: G.Skill TridentX 2800C11 2 X 4GB @ 2800MHz 11-14-14-35-1T
Samsung IC RAM: G.Skill TridentX 2666C10 2 X 4GB @ 2800MHz 9-12-12-25-1T
PSC IC RAM: Corsair Dominator GTX4 2533C9 2 X 2GB @ 2666MHz 8-12-8-28-1T
Elpida-BBSE IC RAM: G.Skill RipjawsX 2133C8 2 X 2GB @ 2400MHz 8-11-7-24-2T
Thoughts & Verdicts
The absence of Maximus Extreme model has made the Maximus VII Formula as ASUS's highest-end Z97 motherboard in the ROG family. This also makes it the most expensive board in the Z97 lineup. At the time of writing this article, the Maximus VII Formula is available on the local market for RM 1,720. While you might think that it's too expensive, ASUS has reason to put that price tag.
Starting with aesthetic aspect, the Maximus VII Formula is no doubt the best looking Z97 motherboard we've ever seen so far. The ROG Armor not only provides extra cooling and rigidity, it also adds some aesthetics looks to the motherboard. It looks very nice and neat. On the other hand, ASUS has beefed up the Crosschill hybrid water block with copper water cooling channel which overcomes the possibility of getting galvanic corrosion on last year's Maximus V Formula. The included G1/4 threads allow users to choose their favourite barbs or compression fittings.
In terms of build quality, ASUS implemented high grade components in pursuit for higher overclocking potential. The Maximus VII Formula is equipped with a strong 8+2 phase DIGI+ VRM power NexFET Power Block MOSFETs, 10K Black Metallic Capacitors, and 60A Blackwing Chokes. These ingredients will definitely  help pushing your overclocking to the limit. For the best gaming experience ASUS employed the LANGuard network protection, GameFirst II network optimization, and in-game visualized Sonic Radar II detection. Besides that, the Maximus VII Formula is also loaded with the enhanced SupremeFX Formula 2014 audio solution and KeyBot + TrueVolt USB Technology. So basically you will get everything that's needed for gaming. ASUS won't let you run out of storage space, you get a plenty of SATA3 ports as well as the lightning-fast M.2 connector built on the mPCIe Combo III module and the SATA Express ports.
On the UEFI BIOS aspect, ASUS has done a really great job on this. You get everything that's needed for overclocking. There are bunches of overclocking presets for you to choose with a few clicks of button.  Each option is described clearly on the bottom side of the BIOS interface. If you still need an assistant then head to the included user's manual for further details. If you are not into the BIOS overclocking, don't worry as ASUS provide AI Suite III tweaking utility that works in OS environment to fine tune your overclocking.
When it comes to performance, the Maximus VII Formula, as you might have expected worked well in line with the competing Z97 motherboards that we've tested. In terms of overclocking performance, we would say that it was a breeze working with the Maximus VII Formula. With minimal tweaking applied we managed to squeeze our Devil's Canyon processor to a healthy CPU frequency of 4.6GHz therefore boosting its performance to a higher level. Memory overclocking on this board was awesome. We were able to overclock all of our favourite memory kits without a hitch. Thanks to the included memory presets in the BIOS, it really made our job done easily.
ASUS has continued the awesomeness of the Maximus Formula model with bunches of improvements here and there. The Maximus VII Formula is ultimately aimed at gaming and overclocking enthusiasts who are looking for a motherboard that has an attractive design and comes with plethora of overclocking features. If budget is not a problem, then the ASUS Maximus VII Formula is definitely the perfect motherboard to be part of your Devil's Canyon build.
Performance: 5/5
Materials: 5/5
Specifications: 5/5
Appearance: 5/5
Performance/Price Value: 4/5
Pros:
Excellent overclocking performance
Attractive ROG's red and black colour scheme
ROG Armor provides extra cooling and rigidity
Crosschill Copper gives twin-power cooling of air and water
High grade components used
Nice board layout
3-way CrossFireX support
Enhanced SupremeFX Formula 2014 audio solution
Huge ROG featured accessories package
AI Suite III helps in fine tuning the overclocking
Intelligent UEFI BIOS
Informative user's manual
Fast booting
Cons:
Expensive, very expensive
Heavy
No PLX chip to allow 3-way SLI support
No dual BIOS chips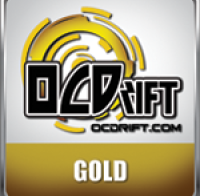 ASUS Maximus VII Formula received Gold Award from OCDrift.com
Disclaimer: OCDrift.com gives out our own award based on the Hardware Performance, OverClocking Ability, Innovation, and Value as determined by the reviewer

One of the most respected OverClocker here in Malaysia with vast knowledge in Motherboard, Graphics Card and Memory. The nick "owikh84" is not only well known in local tech sites but also international forums such as XtremeSystems.org, Overclock.net and so on.