Corsair Gaming has created an aircraft-grade aluminum MM600 Gaming Mouse Mat. The MM600 features dual sided mouse surface to choose between high speed with glide effect or high texture for precision control. The surface is optimized for laser gaming sensors and rubberized grip to prevent the mat from slipping during aggressive gaming session. Without wasting more time, let's proceed for full review of the Corsair Gaming M600 Mouse Mat!
Product Link: http://www.corsair.com/en/corsair-gaming-mm600-double-sided-mouse-mat
Suggest Retail Price: RM 148.00
Specification
Unboxing
Now we will make unboxing part of the Corsair Gaming MM600 Mouse Mat. From the first look of the packaging design we already know this keyboard is hard surface type.

The front view of the retail packaging of the Corsair Gaming MM600 Mouse Mat. On the top left Corsair put their gaming series logo and there's a beautiful image of the mouse mat alongside some imformation about its key features. Did you notice this model came with dual sided mat?

At the back of the box, Corsair explain further about features of this gaming mouse mat. On the bottom right you can find a sticker indicating the model name as well as the bar code.

Unboxing reveals the Corsair MM600 mouse mat that is well protected in hard transparent blistering plastic to prevent scratching.

Corsair stick the Warranty and Guide Booklet at the back side of the blistering plastic.

As mentioned earlier, the Corsair MM600 gaming mouse mat features a dual sided surface. The first side of the mouse mat surface comes with a diamond design which is responsible for smooth and high-speed glide.

The other side the mouse mat comes with a plain black and slightly rough surface for maximum handling and sleek surface.

Each side of the mouse mat has the Corsair gaming logo at the middle bottom of the surface.

Each corner of the M600 is equipped with rubberized grip to prevent slippery no matter how frenetic the action gets.

The glide surface features smooth microscopic build attune with supreme accuracy for laser gaming mouse.

The other side surface is rougher and can be clearly seen compared to the previous surface. This heave texture finish is to maximize user's handling for more accuracy and precision aiming.
Conclusion
Now let's wrap everything up regarding the Corsair MM600 gaming mouse mat. We really love the idea of dual sided surface with different texture of the mouse mat. Now Corsair allow user to choose between the two surface types for different kind of gaming environment. The high speed surface really makes our mouse glides easily without much friction, thus helping much especially during games like Dota 2 while still allowing for precision target. The second surface with heavy texture side delivers outstanding control for aiming in First Person Shooter or FPS games. The downside side of this mouse mat is that it might not suitable for user that always travel. The hard surface is not easy to transport and might be bent if too much pressure when put inside the bag. We understand that great quality and features came with higher costing. The mouse mat is sold with the price tag of RM 148, which might be a little wallet ripper for some of us, but once you get to try it, we pretty sure you cannot leave the mouse mat without bringing it back with you.
Finally we would like to thank Corsair Malaysia for giving us a chance to play with the Corsair Gaming MM600 Mouse Mat.
Performance: 5/5
Materials: 5/5
Specifications: 4/5
Appearance: 4/5
Performance/Price Value: 4/5
Pros:
+ High grade aluminum bezel
+ High quality polymer surfaces
+ Two unique forms of mouse mat
+ Optimized for gaming sensors
+ Stable and secure
Cons:
- Cannot be folded and thus, not suitable for travelling lover
- A little expensive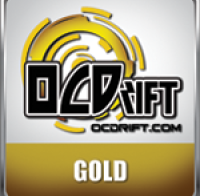 Corsair Gaming MM600 Mouse Mat received Gold Award from OCDrift.com
Disclaimer: OCDrift.com gives out our own award based on the Hardware Performance, OverClocking Ability, Innovation, and Value as determined by the reviewer

A Kelate studying in East Malaysia CRAZY with graphics card!! The youngest writer always eager to review stuffs, especially cooler and peripheral!!