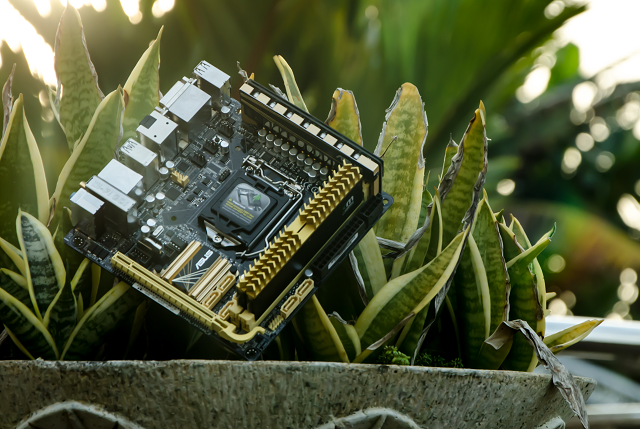 Today we take a look at the ASUS Z87I PRO; a mini-ITX gaming motherboard based on Intel Z87 chipset for the latest 4th generation Intel Core processors. The motherboard proves mini-ITX doesn't mean compromised performance, as it's packed to the hilt with features that put it on par with ATX boards which powerhouse delivers full-size performance with 12+2 DIGI+ VRM, superfast 802.11n Wi-Fi, and extensive storage options.
Product Link: http://www.asus.com/Motherboards/Z87IPRO/
Suggested Retail Price: RM720
Specification
Unboxing
ASUS has totally changed their box's color scheme for mainstream Z87 boards. Instead of the blue we were used to seeing, ASUS went with a black and gold look this time around.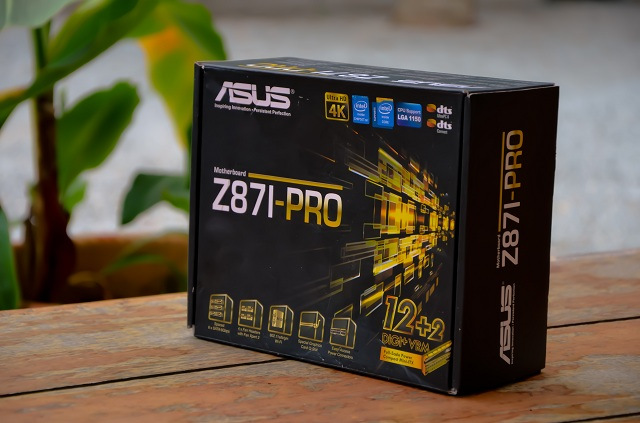 Side view of the ASUS Z87I PRO Motherboard, as you can see this board is equipped with 12+2 DIGI+ VRM.

You can check the serial number and part number of the motherboard at the bottom of the box.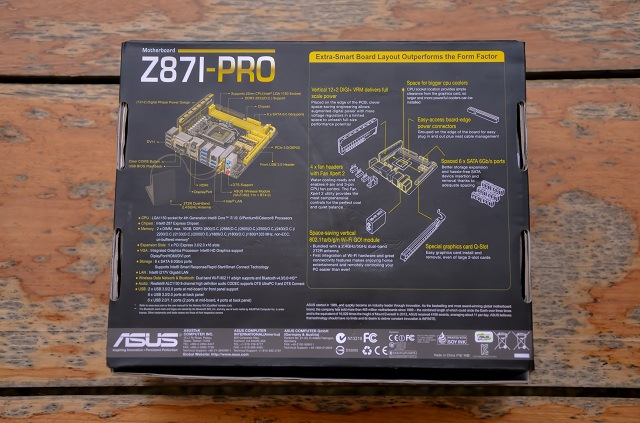 At the back of box is the list of features supported by the board.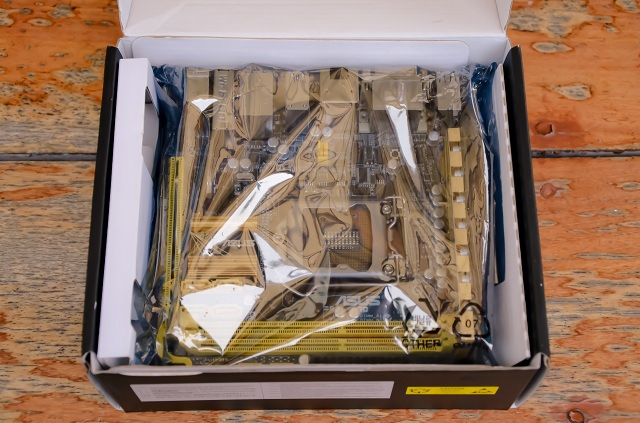 Inside, the Deluxe has a smaller white box that includes a clear anti-static bag containing the motherboard.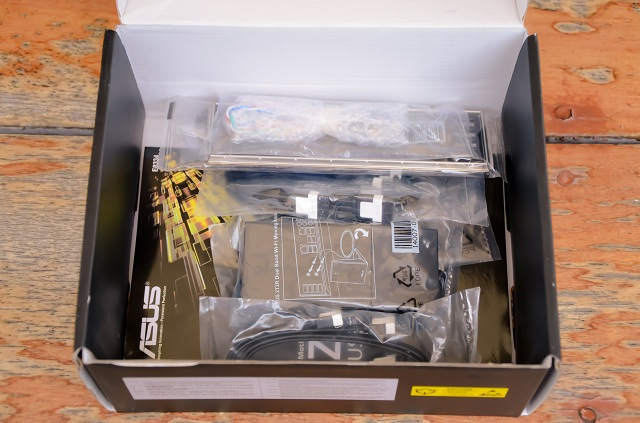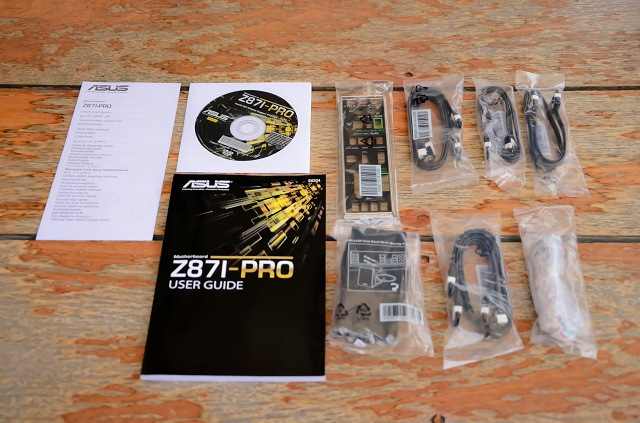 Accessories given bundle with the board:
+ User's manual
+ ASUS Q-Shield
+ 6 x SATA 6Gb/s cables
+ 1 x Wi-Fi Antenna
+ Drivers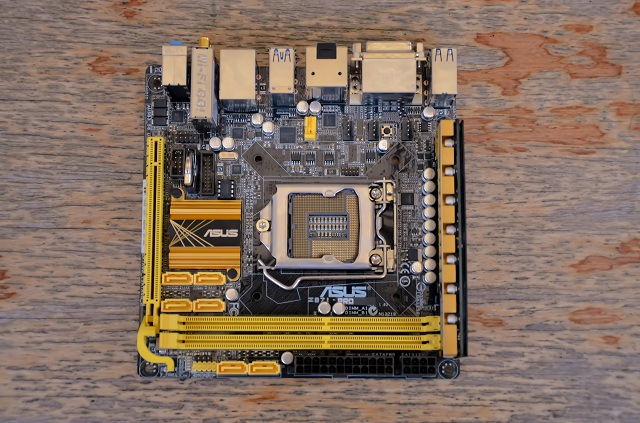 ASUS Z87I-PRO board front layout.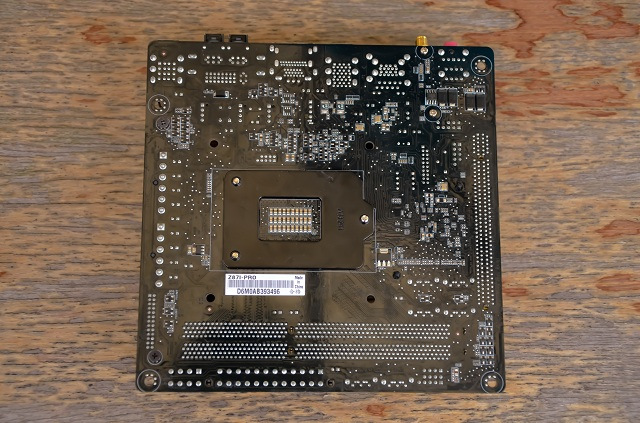 ASUS Z87I-PRO board back layout.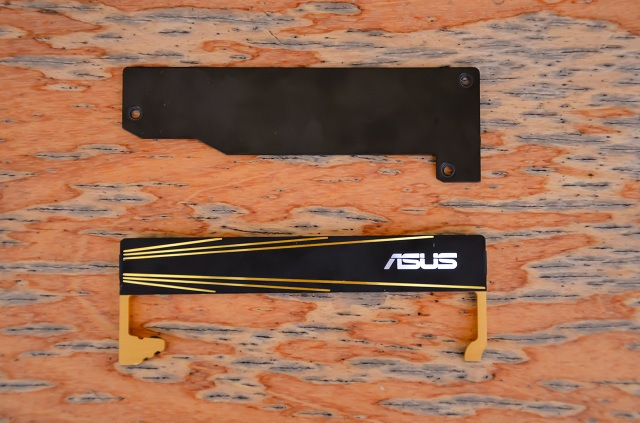 The PCH VRM area is being cooled by a passive cooling block. There are a total of 7 screw needs to be removed to reveal the DIGI Phase power board.

The ASUS Z87I-PRO features a fully digital 12+2 phase power design. Apart from that there are Japanese solid state capacitors, which can cope with up to 30A per phase.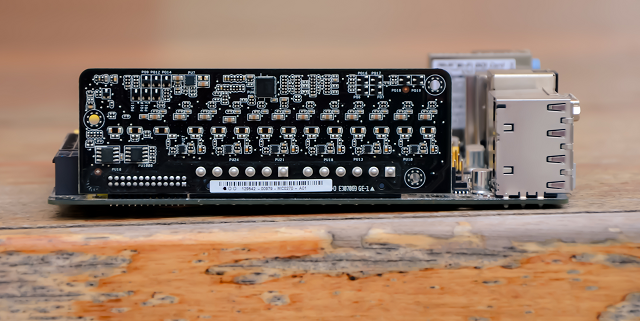 The board is placed on the edge of the PCB, clever space-saving engineering allows augmented digital power with more voltage regulators in a limited space to unleash full-size performance potential.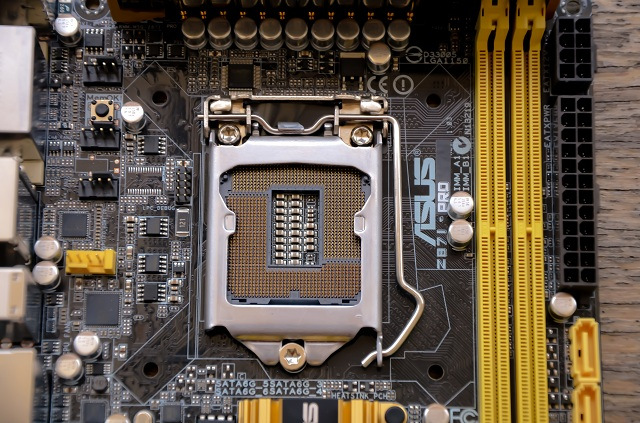 This board comes with a surface mount LGA 1150 socket designed for the Intel® for 4th Generation Core™ i7/Core™ i5/Core™ i3/Pentium®/Celeron® Processors.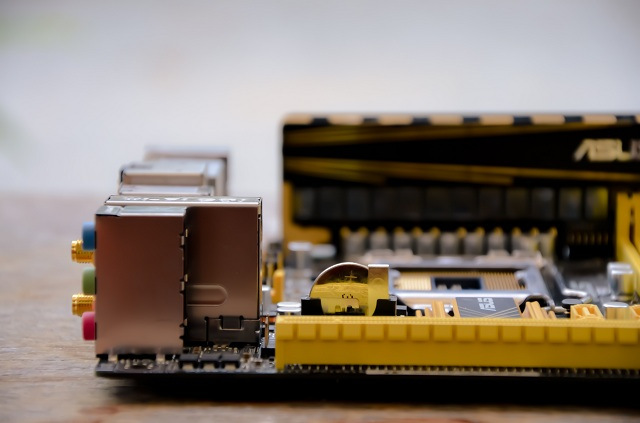 The CMOS battery is placed this way to save space.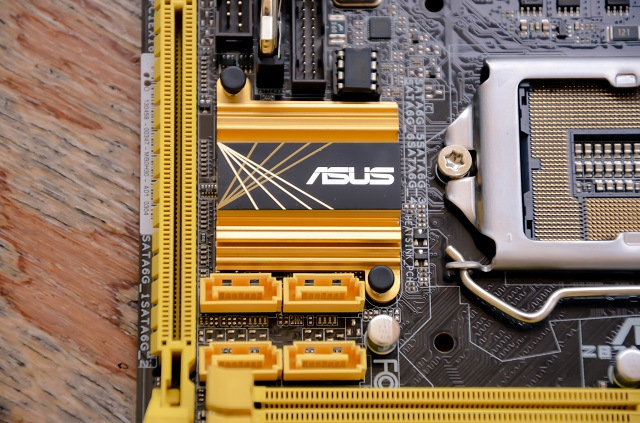 Southbridge heatsink of the board.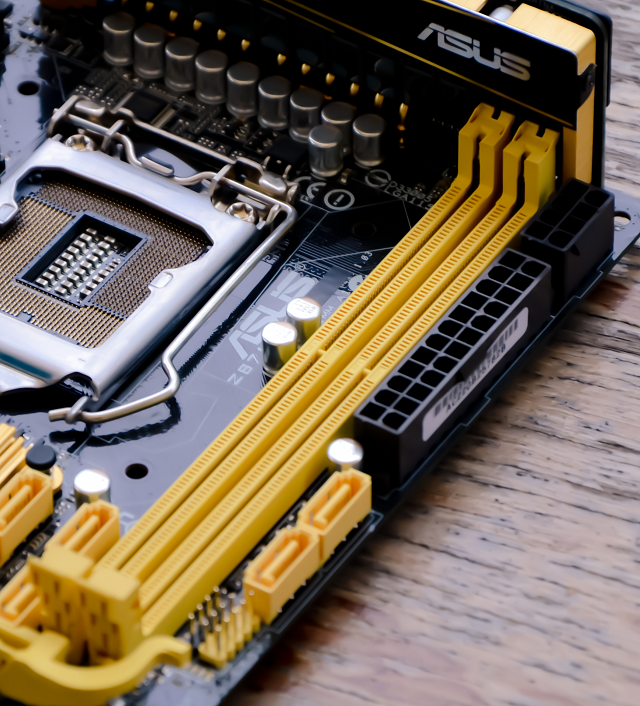 The board equipped with two DIMM-slots on the ASUS Z87I-PRO.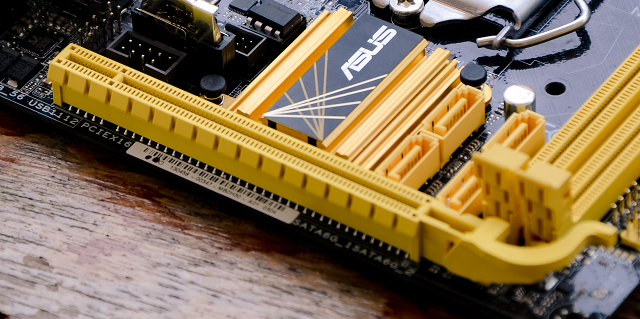 The expansion slot for the graphic card that support 1 x PCIe 3.0/2.0 x16.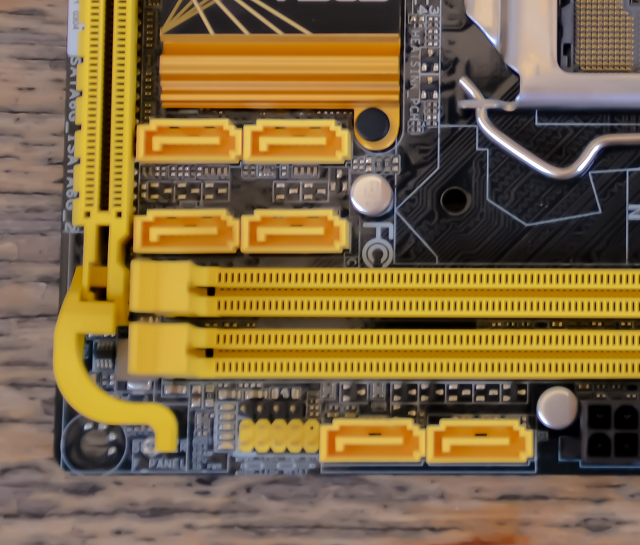 6 x USB 3.0/2.0 ports.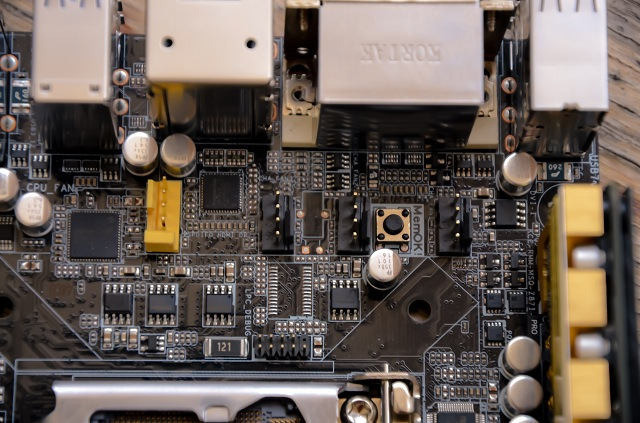 ASUS decided to use 4-pin PWM headers in all four cases fan with ASUS Fan Xpert 2 features.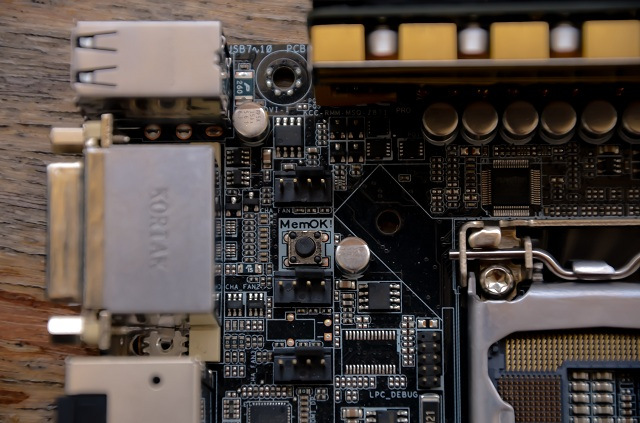 MemOK! Enhanced memory compatibility: save time on trial and error. Memory issues can be difficult to diagnose and even harder to fix or work around. If RAM problems are preventing the system from booting, MemOK! Helps by automatically loading failsafe settings to enable basic functionality with a simple push of a button on the motherboard. This troubleshooting feature saves time and annoyance, and adds to the confidence of DIY builders.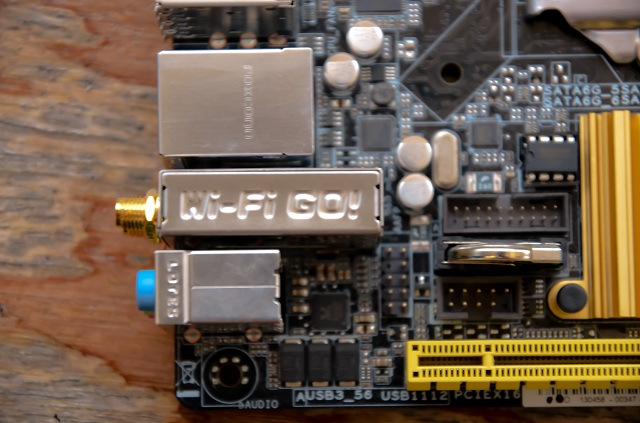 Quickly gets an access point via 802.11n Wi-Fi. Bundled with a space-saving vertical 2.4GHz/5GHz dual-band 2T2R antenna.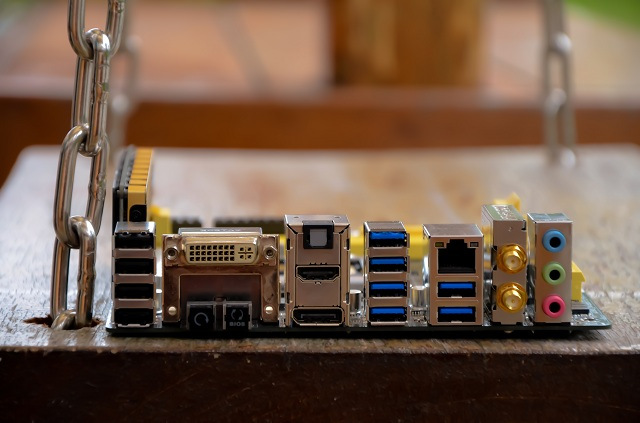 Looking at the back A/I port panel, ASUS equipped the ASUS Z87I-PRO with:
+ 1 x DVI-I
+ 1 x DisplayPort
+ 1 x HDMI
+ 1 x LAN (RJ45) port(s)
+ 6 x USB 3.0 (blue)
+ 4 x USB 2.0
+ 1 x Optical S/PDIF out
+ 3 x Audio jack(s)
+ 1 x Clear CMOS button(s)
+ 1 x USB BIOS Flashback Button(s)
+ 1 x ASUS Wi-Fi GO! module (Wi-Fi 802.11 a/b/g/n and Bluetooth v4.0/3.0+HS)
Test Setup
BIOS Walkthrough
ASUS continued to maintained their best EUFI Bios seen to date compared with other competitors. The current UEFI doesn't look all that much different from the last generation product. It does differ in a number of very important ways. That's serious innovation. The two most standout features are quick notes and the last modified log. There is slightly difference from the TUF series motherboard in term of Bios theme colour from military-look to simple blue., the rest look almost the same. All in all I've never seen a better UEFI. ASUS new BIOS is easily the most feature rich and capable UEFI offered on any motherboards in the world.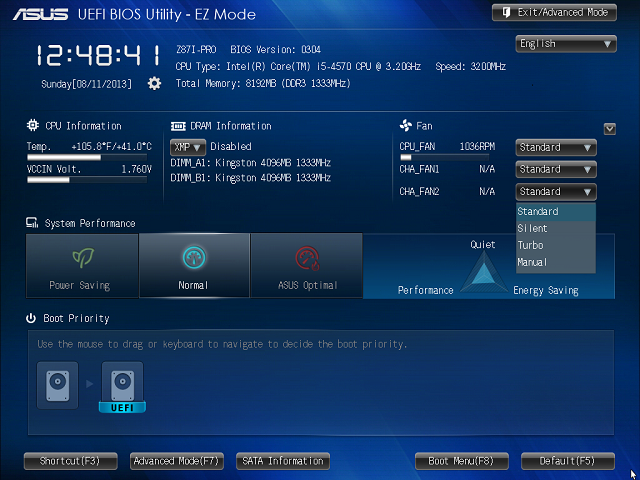 ASUS EZ-Mode has been improved from the Z77 motherboards by distilling even more information into the menu without making it too cluttered or impacting usability. More actual settings and information are here. XMP profiles for example can be chosen here along with fan profiles. In my humble opinion, ASUS should change the Bios theme from blue to yellow as it might fit well with the board yellow theme.

The main menu from the Advanced mode is largely the same as it ever was on any UEFI equipped ASUS board. User able to check current time and date along with the language section menu and board and
cpu information.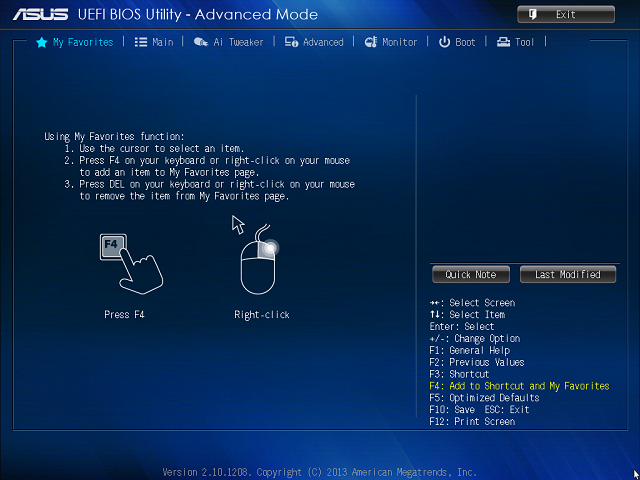 ASUS made new features on the UEFI BIOS, allows users to add their "Favorite" settings in the My Favorites tab for fast and easy access.

The infamous Ai Tweaker where overclocker spend the majority of their time if they plan on overclocking their system. The Ai Tweaker menu items allow you to configure overclocking-related items such as clock speeds, voltages, and strap. The top of the page shows the target CPU, memory, cache, DMI/PEG, and iGPU speeds in yellow. Below that are some of the items you will use most such as BCLK Frequency, CPU Core Ratio, CPU Cache Ratio, and DRAM Frequency. All of these can be accessed by setting Ai Tuner to Manual.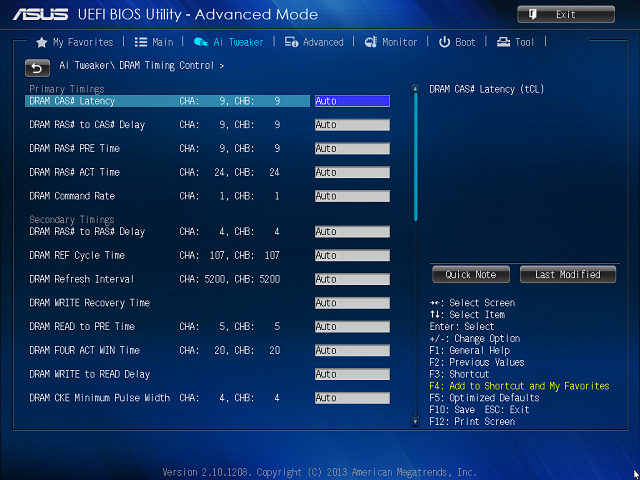 The DRAM Timing menu does precisely what the name implies. It allows the user for the adjustment of memory timings. These include CAS latency, command rate, and more. Memory tweakers will love that ASUS has made every memory timing and setting imaginable available in the Z87I-PRO BIOS.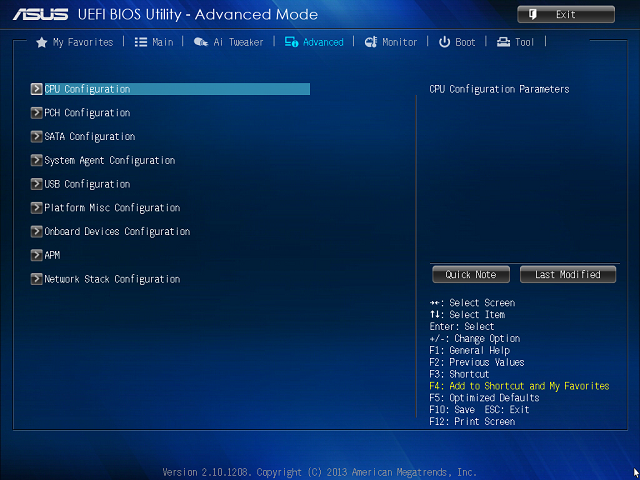 On the next Advanced section, user can see there are a number of configuration for CPU, PCH, SATA, System Agent, USB, Platform Misc., Onboard Devices, APM, and Network Stack. Information about the CPU installed as well as settings for hyper-threading and active cores can access inside the CPU Configuration page.

On this Monitor section contains the system temperature/power status, and adjustable fan settings with profiles. Fan speeds are customizable based on a number of settings, bringing a whole new level of control with Fan Xpert 2.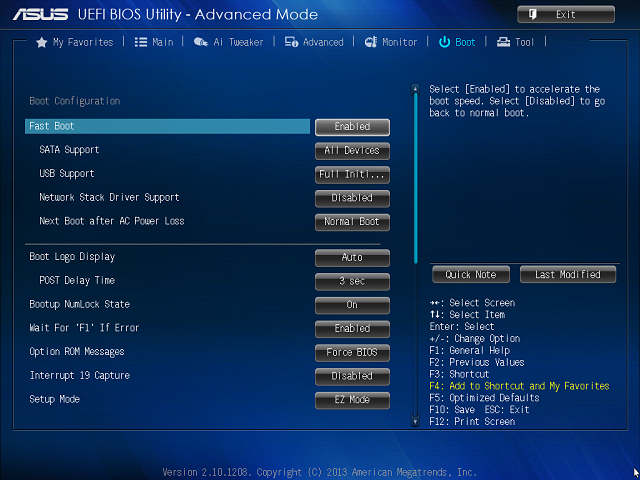 The Boot section contains boot priority options and POST options. Here user can also enable Hardware Fast Boot, Boot Logo Display, and DirectKey which will boot the system to BIOS when the DirectKey button is pressed.

The Tools menu is another standout in the ASUS UEFI. Under the Tools menu are three other subsections, allow user to access DRAM SPD Information, EZ Flash 2, and OC Profiles.

On this section, EZ Flash 2 is used for flashing the board's BIOS from a in a safe and easy manner from a USB stick.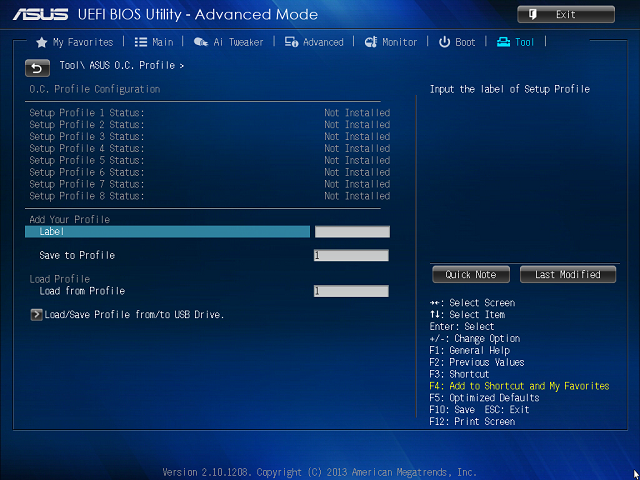 The ASUS O.C. Profile menu allows user to create and load performance profiles. These can be saved to removable media if user run out of onboard profile slots, or in case they wish to back these up. Be warned as profiles made on different UEFI versions will not work with others.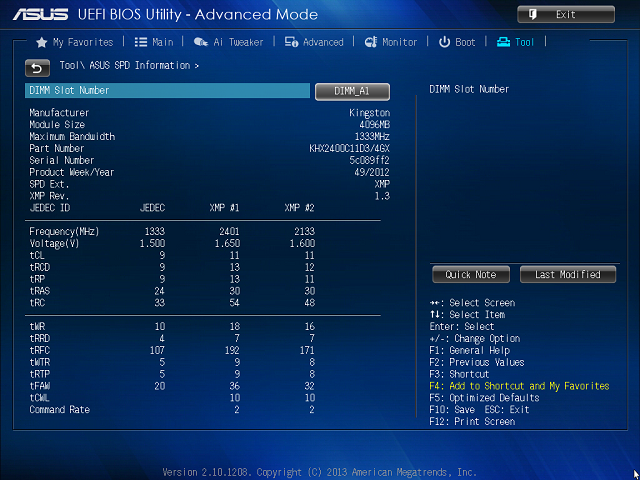 The SPD Information sub menu lists the SPD and XMP details related to the installed memory modules on the board.

One of the features from ASUS EUFI Bios is Quick note. The quick note feature lets user to have their own personal notepad within the UEFI interface to record or write any information to keep track on the future as user work on their tuning.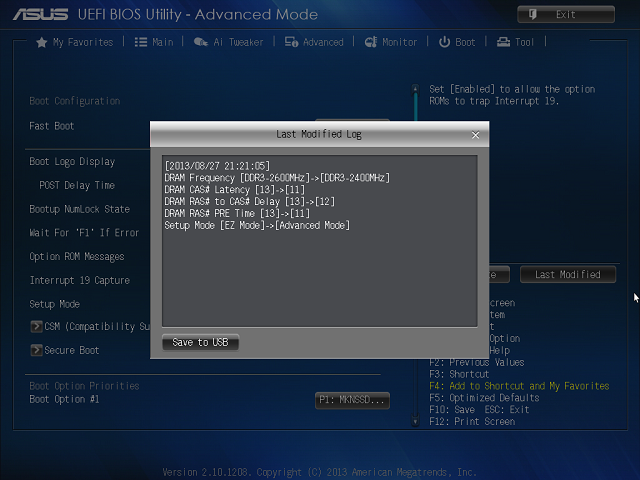 The Last Modified feature shows the last saved BIOS settings in case user would like to revert back to a previous setting. User can save these logs to USB flash drives should they wish to do so for the future
use.

Similar to Last Modified, when user save the BIOS and exit, a BIOS Settings Change screen pops up to remind them of changes made so they can have one last scan of the changes before exiting the BIOS.
AiSuite III
In recent years, ASUS has put more emphasis on motherboard software. Along with the new Z87 Haswell platform motherboards, ASUS is offering a new and updated AI Suite software package. Now at version three, we have a new looking GUI and a couple new additions to the utility. Too bad this board does not come with the most impressive new feature, the 4-Way Optimization function compared with their siblings which his gives the user the ability to manipulate VRM power profiles, CPU and memory overclocking, cooling performance, and power parameters.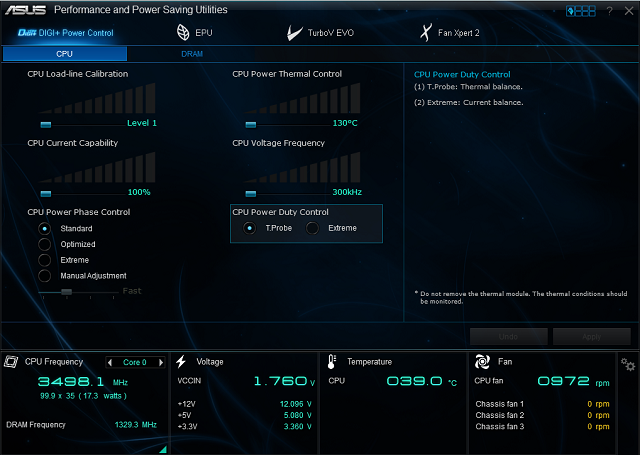 DIGI+ Power Control - CPU and DRAM Power setting. The DIGI+ Power Control tab has the options for LLC, CPU power thermal control, CPU voltage frequencies, CPU current capabilities and similar power phase controls too.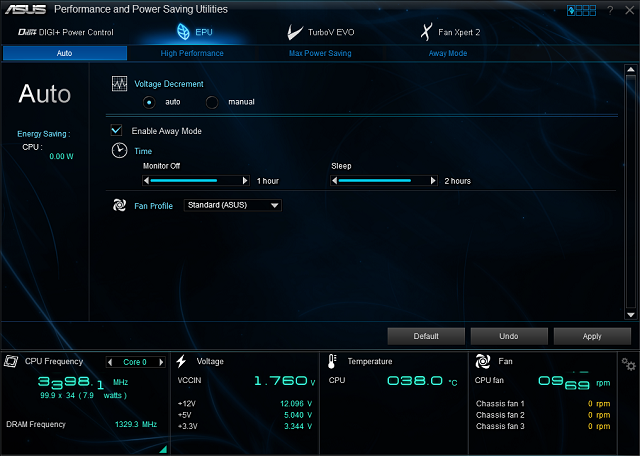 The EPU mode lets the user to set power savings features as desired. This menu includes fan profiles, voltage decrements, an away mode, and sleep timers.

The TurboV EVO menu is where the user find the adjustments for overclocking. The CPU frequency menu has a group tuning and single core tuning function. Turbo frequency multiplier, BCLK frequency, and CPU cache ratio are adjusted here. Profiles can be saved or loaded here as well.

ASUS Fan Xpert 2 provides customizable settings for a cooler and quieter computing environment. With its Fan Auto Tuning features, ASUS Fan Xpert 2 automatically detects and tweaks all fan speeds, and provides the user with optimized fan settings based on the fans specifications and positions.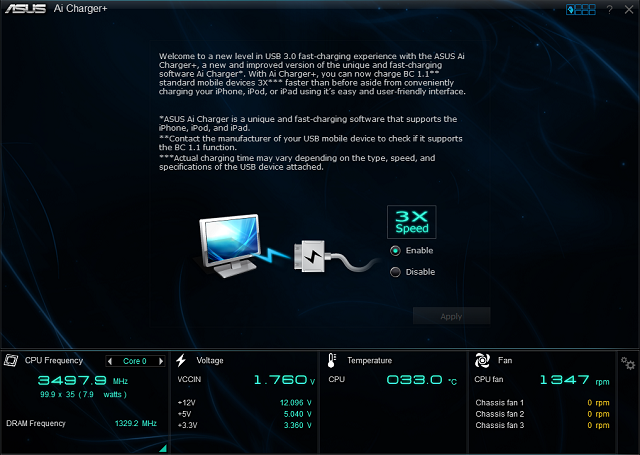 ASUS Ai Charger+, the latest Ai Charger version, brings the user to a new level of USB3.0 fast charging experience. With its easy and user friendly interface, user can easily charge their iPod, iPhones, iPad and also standard mobile devices three times as fast as before. From my test, my iPhone 5 charged 47% faster than normal.

On system section, user is able to access to Motherboard, CPU and memory information.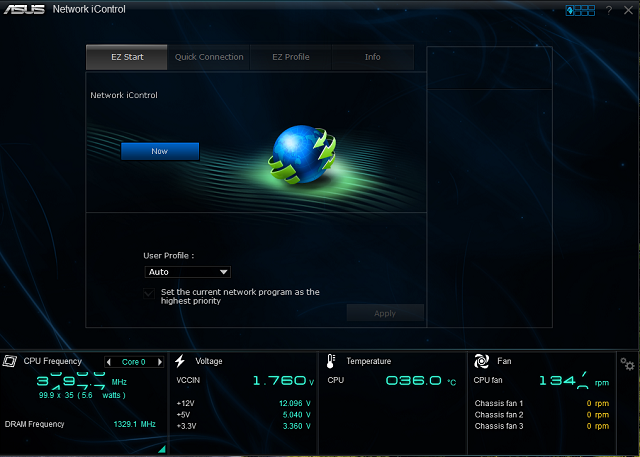 Network iControl is an intuitive one-step network control center that makes it easier for user to manage their bandwidth and allows setting, monitoring and scheduling the bandwidth priorities for their network programs.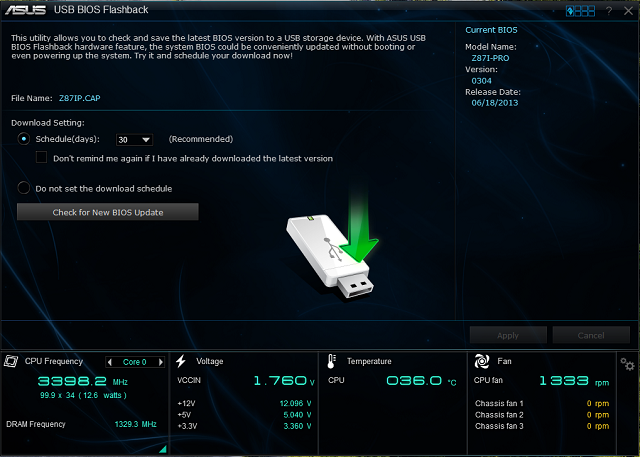 USB BIOS Flashback offers a hassle-free updating solution for user ultimate convenience. It also allows user to regularly check for EUFI BIOS updates, download and install the latest BIOS automatically. To manually update BIOS, install a USB storage device containing the BIOS file, press the BIOS Flashback button for about three seconds, and the EUFI BIOS is automatically updated even without entering the existing BIOS or operating system.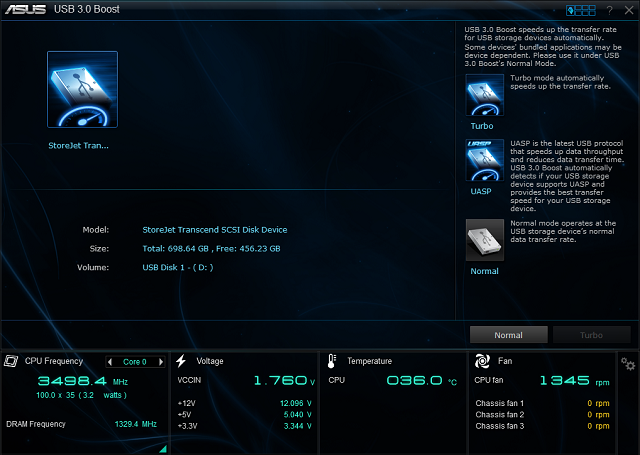 ASUS USB 3.0 Boost, significantly increases a USB devices transfer speed up to 170% faster than the already impressive USB 3.0 transfer speed. It automatically accelerates data speed for compatible USB 3.0 peripherals without the need for any user interaction.
OverClocking Performance
Since the ASUS Z87I PRO is based on the Z87 chipset, it is only fair for me to share some OverClocking results. However, there's not too much i'm able to do with the "locked" ntel® Core™ i5-4670 processor. Therefore, the OverClocking Test is on the RAM and iGPU.
RAM/IMC OC
The benchmark tools used for the Memory bandwidth and efficiency test used are as below:
- Aida64 Extreme
- MaxxMEM
- Superpi
- Sisoft Sandra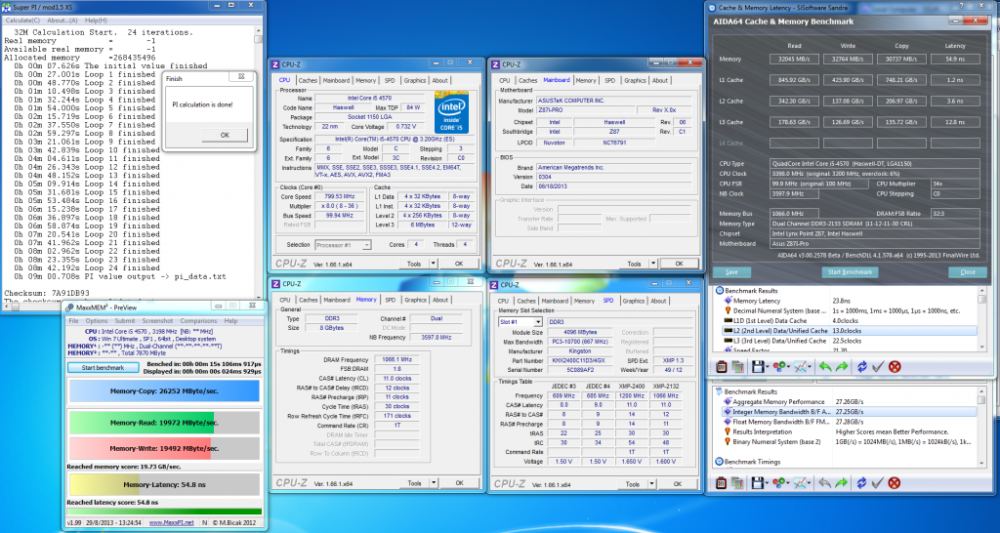 Kingston HyperX Beast F3-2400C11 4GBX2 @ 2133MHz 11-12-11-30-1T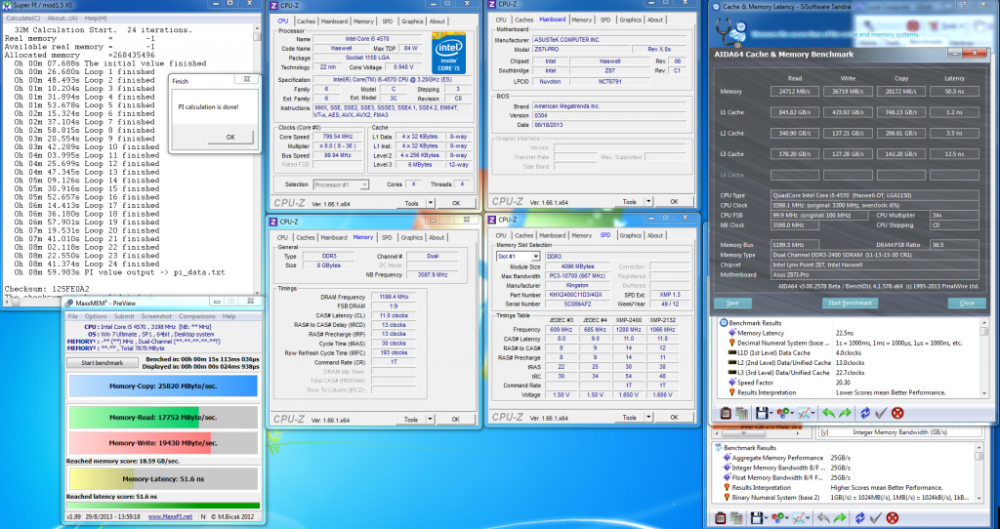 Kingston HyperX Beast F3-2400C11 4GBX2 @ 2400MHz 11-13-13-30-1T

Kingston HyperX Beast F3-2400C11 4GBX2 @ 2600MHz 13-14-14-30-1T
iGPU OC
The Intel® Core™ i5-4670 processor comes with the integrated Intel HD4600 graphic. The base core clock can be automatically overclocked using Turbo Boost technology. Depending on the processor model, the turbo clock rates (1150 - 1350 MHz) and shared L3 cache may differ greatly resulting in varying graphics performance between CPU models.

* The specified clock rates are only guidelines for the manufacturer and can be altered by them.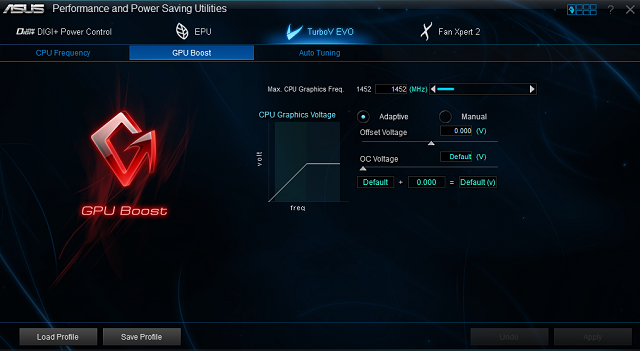 The whole process of OverClocking the iGPU is done via ASUS's Ai Suite III - GPU Boost and the CPU speed is kept at stock clock.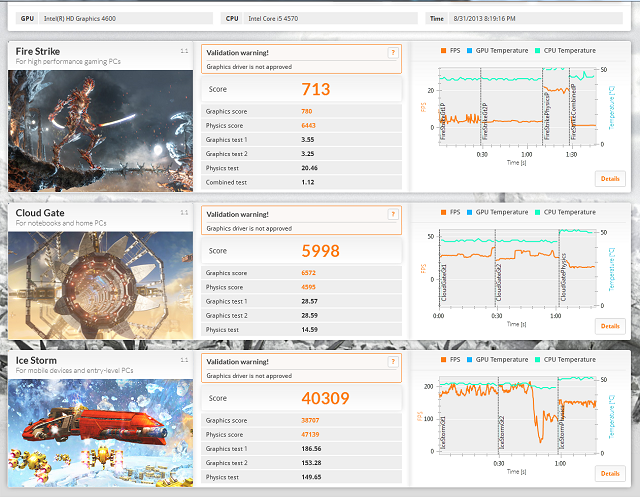 3DMark - Stock @ 1152MHz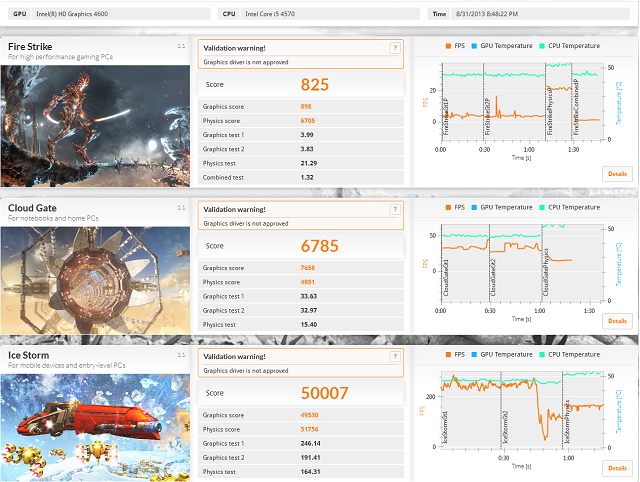 3DMark - Auto Tuning @ 1202MHz

3DMark - Max OC @ 1452MHz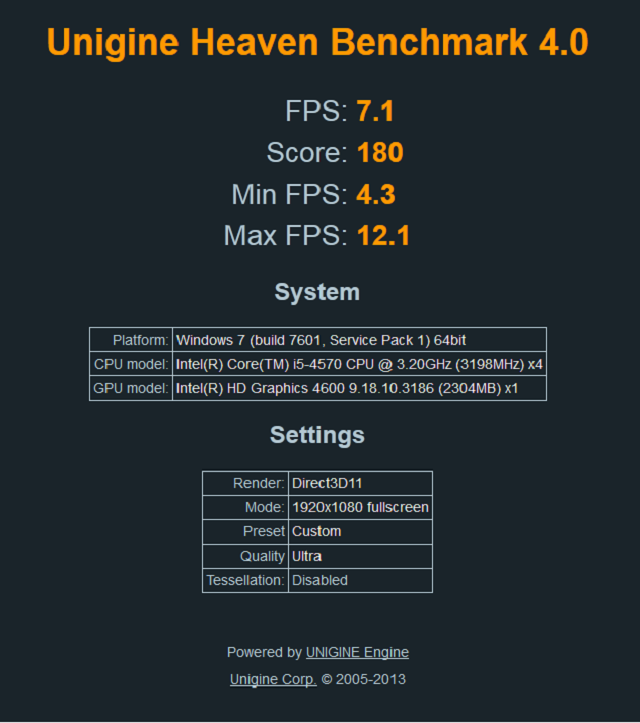 Unigine Heaven 4.0 - Stock @ 1152MHz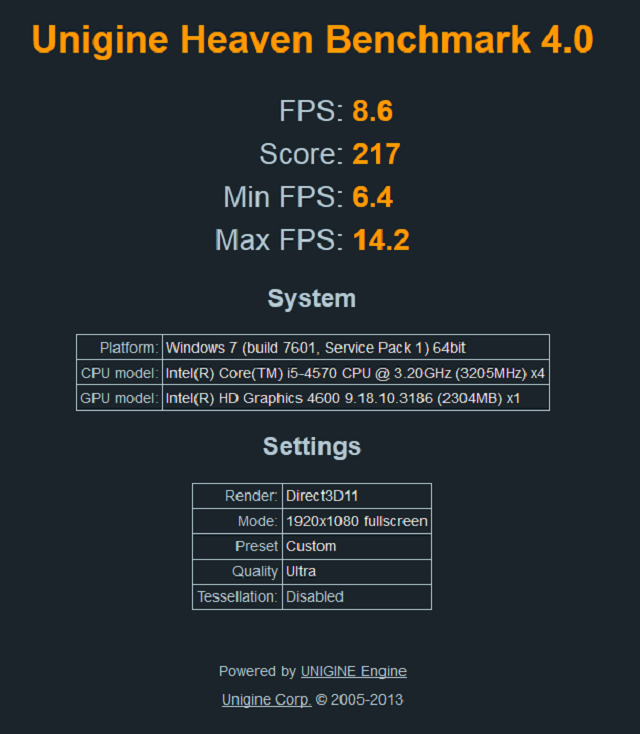 Unigine Heaven 4.0 - Auto Tuning @ 1202MHz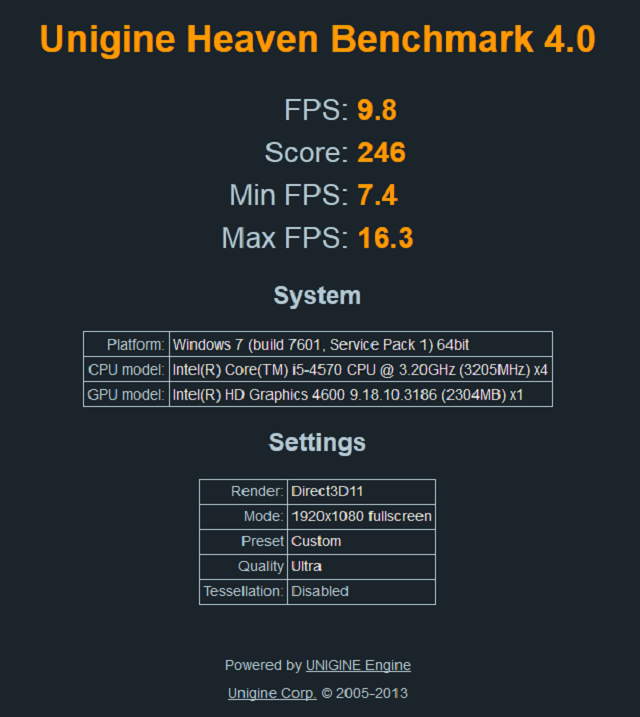 Unigine Heaven 4.0 – Max OC @ 1452MHz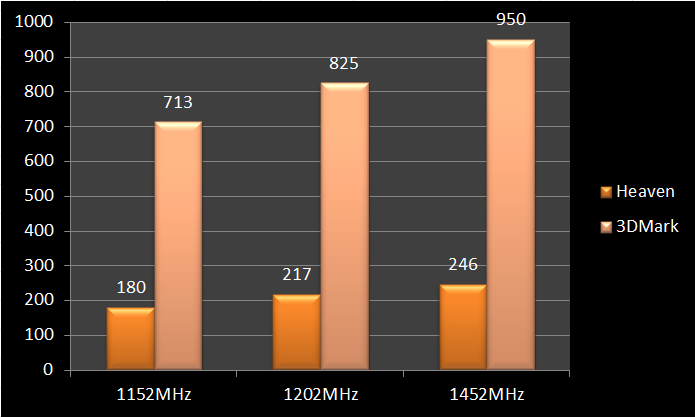 The score obtained from 3DMark (Firestrike) and Heaven setting on different GPU clock speed
Conclusion
The ASUS Z87I-PRO has been a great motherboard to work with. ASUS emphasis in aesthetics in their motherboard's design is nothing short of superb. Little details like screwed on cooling, ESD guards, DRAM over current protection, anti-corrosion coatings, UEFI refinements, updated AI Suite software and an ASIC that allows the system to power on by connecting only a PSU to the motherboard put this board above most would-be challengers.
I loved the new BIOS features ASUS included with the ASUS Z87I-PRO and although the board was brand new the BIOS was relatively bug free and easily recoverable when instable settings were used. If users are looking for a high-end mini-ITX motherboard, then there is no way around the ASUS Z87I-PRO other than the MAXIMUS VI Impact This board offers a flexible feature mix and its even reasonably priced.
Finally, I would like to thanks ASUS Malaysia for the opportunity to test the ASUS Z87I-PRO motherboard
Performance: 5/5
Materials: 5/5
Specifications: 5/5
Appearance: 5/5
Performance/Price Value: 4/5
Pros
+ Industry leading UEFI BIOS full of new features
+ Impressive overclocking performance, especially the memory overclocking
+ Awesomeness of direct key
+ Useful AI Suite III
+ Cool motherboard layout and friendly for extreme overclocking
+ On board Wi-Fi GO and Bluetooth connectivity
+ Loads of SATA and USB 3.0 ports
+ Fan Xpert II is the most customizable fan solution yet
Cons
- The board itself not cheap
- 4-Way Optimization may need refining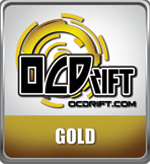 ASUS Z87I-PRO received Gold Award from OCDrift.com
Disclaimer: OCDrift.com gives out our own award based on the Hardware Performance, OverClocking Ability, Innovation, and Value as determined by the reviewer.